Case Studies A Strategy for Unanticipated Periods of Low Demand: Spencer & Johnson, PLLC

Back to Case Studies
Background
Dallas-based Spencer and Johnson, PLLC is a firm focused on probate-related cases. The COVID-19 pandemic presented problems for many businesses, and law firms were no exception. Our goal was to counteract the drop in demand for legal services by increasing visibility in search.
Client's SEO Challenges
Shortly after the COVID-19 virus became a pandemic, businesses faced lockdowns, quarantines and then limitations on the number of staff they could maintain in their offices, among other restrictions. As people stayed home, the demand for legal services decreased dramatically, and many firms struggled to stay afloat.
Strategy
Our SEO team developed a competitive growth strategy that involved:
Improving site performance 

On-page SEO 

Reputation management

Content creation and marketing 

A backlink strategy with citations and link outreach
Results
Improved traffic and leads from Google search despite a sharp decline in demand
First, let's compare new site users (not repeat users) from organic search (SEO) over the past year (blue line) vs. the prior year (orange line). Note that we had increased the number of site users from Google search by more than 40% in the year prior to the pandemic, then note the circled dip in February/March 2020 with the beginning of COVID-19 and quarantines. You can see how remarkably they recovered over the next year despite the pandemic, and have continued to make great progress to date.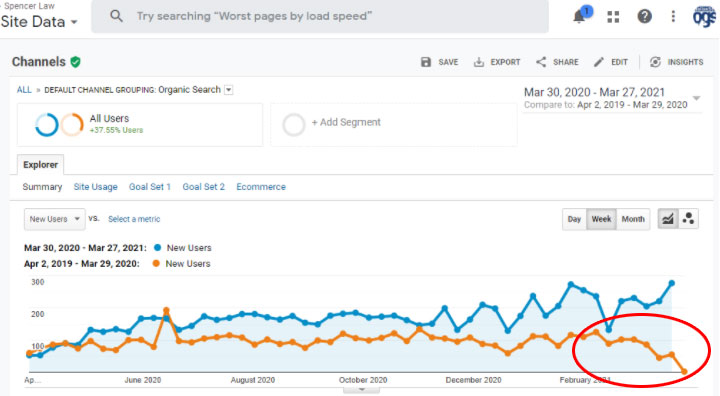 To make the numbers simple, this screenshot from Google Analytics shows a summary of users and sessions for the year beginning with COVID-19 as compared to the previous year. To emphasize, this success was in spite of the handicap of COVID-19 and the financial troubles many people have faced.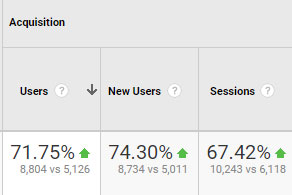 The increase in users from Google search was not a result of brand awareness or other "natural causes"
The client's direct traffic (mostly visitors for the same period from directly typing in their website URL in a browser, visits through email), remained steady during the pandemic (blue line):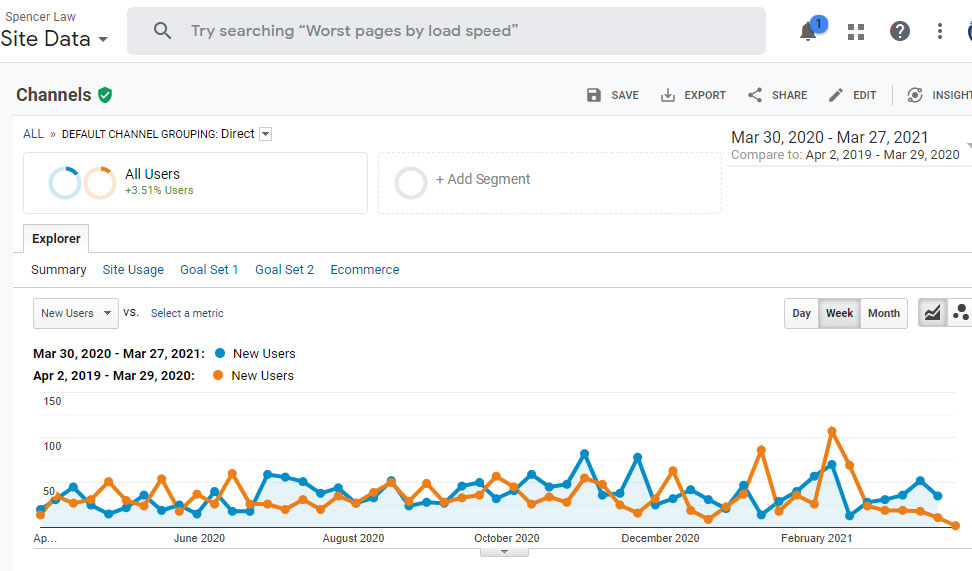 This means that the client's brand awareness wasn't growing. We weren't running brand awareness campaigns. Instead, our SEO efforts produced increased visibility and visits from Google.
You can see the dramatic improvement in impressions and clicks over the past year from search in this table. Note the dip as the pandemic hit in march, after which we recovered and saw a steady increase despite people doing less business last year as a whole because of the pandemic.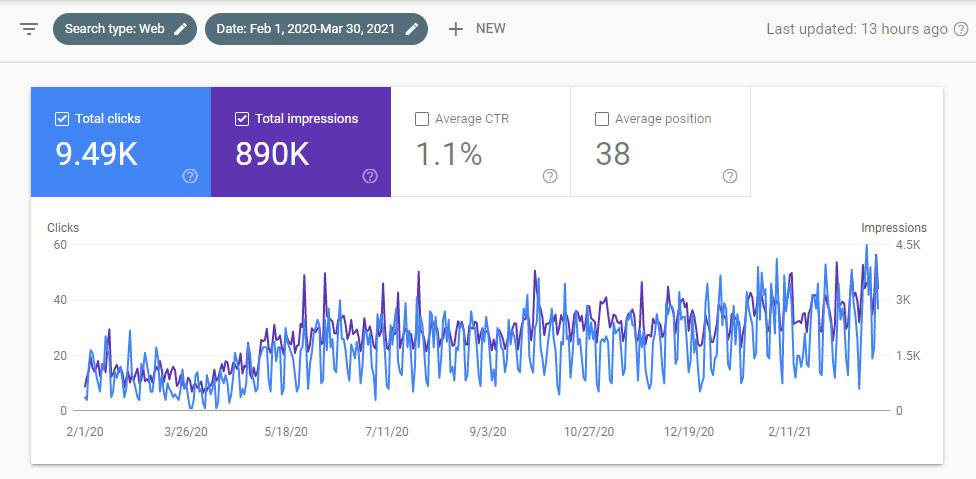 We had fantastic success with our blogging strategy
Some of the most frequently visited pages are blog posts. One post received almost twice as many clicks as the home page, despite nearly half the impressions. These are pages that people spend time on and improve the site's value for Google's algorithm.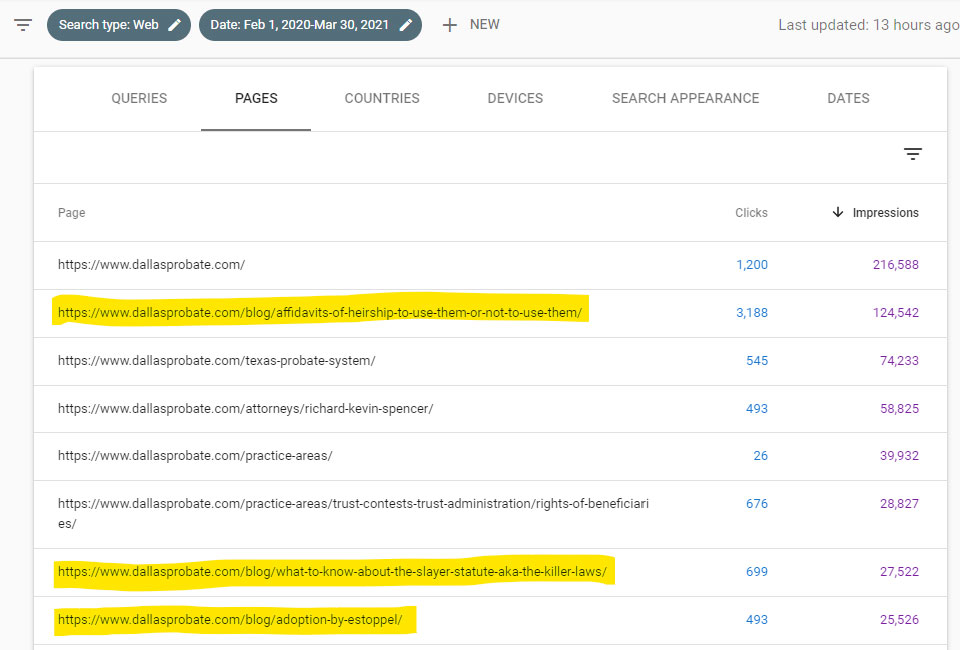 The client is also having great success with maps and local packs, with almost 3000 views in March, 2021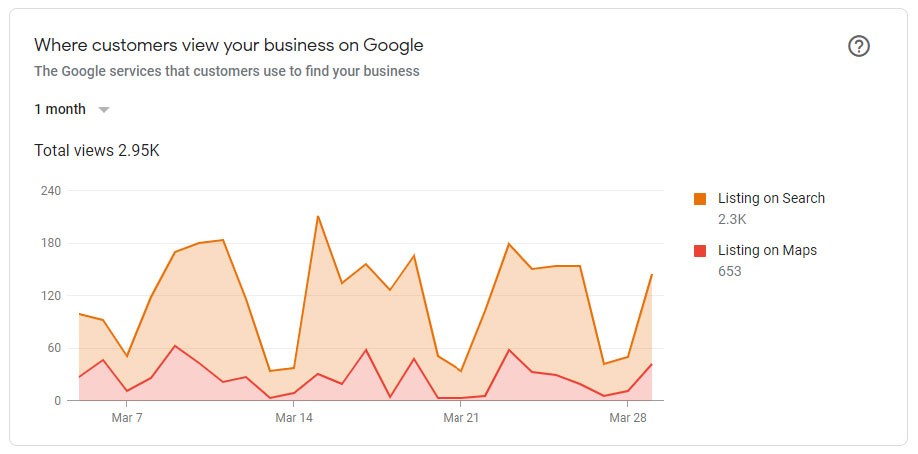 Most of their visibility is not from people searching for their firm specifically (green), but for a service (blue) or a competitor (yellow):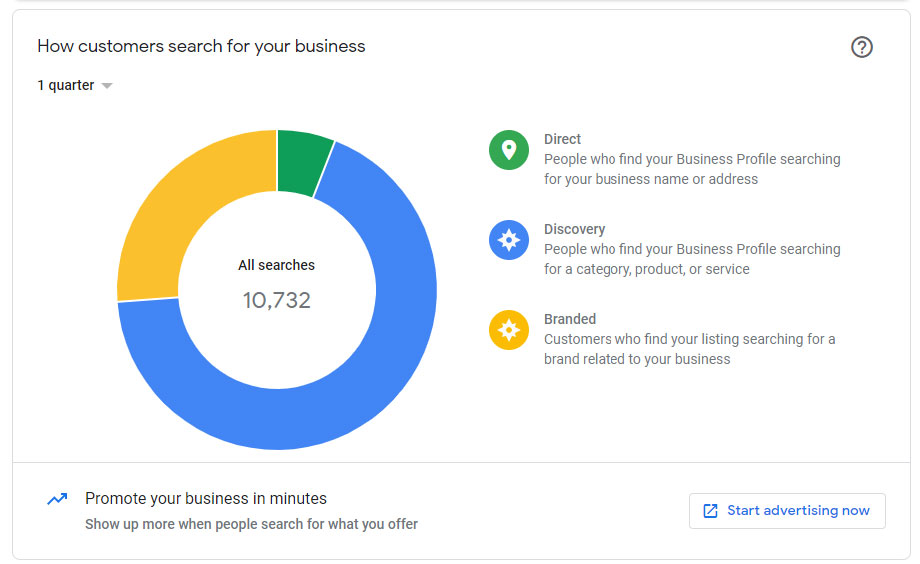 RELENTLESS. TRANSPARENT. OUTSTANDING. TRUE PROFESSIONALS. What our clients say
"I have been using SEO Dogs for five years and they have helped my business grow significantly."
Tony Street - Chef & Co-Owner, Y.O. Ranch Steakhouse
"SEO Dogs is AMAZING!! They helped us out with getting our Website up and running and now not only do we have a beautiful Website, but we are amazed how quick our SEO grew in such a short time! Stay Kalm is much better for having SEO Dogs in our corner!!!!"
Juan Carrasco - (CEO), Stay Kalm Insurance
Load more testimonials