Case Studies Social Media Marketing and Advertising Case Study: Dallas Dental Implant Center

Back to Case Studies
Social Media Marketing
Social Media Advertising
Background
After less than a year with another marketing agency, our client returned to Dallas SEO Dogs for help with their digital marketing strategy once again starting in October 2019. Prior to working with us, they had seen some success through the various marketing channels but the quality of the results were lacking.
They wanted to increase their brand awareness and gain quality leads consistently. For social media specifically, we implemented a strategy that covered both organic and paid avenues. Why? While paid advertising is critical to reaching new audiences for both brand awareness and conversion, organic methods are a valuable part of the user journey and helps further cultivate brand trust, which is an essential component especially in a healthcare-related space.
Client's Challenges
Competition
Our client competes with a number of stiff competitors in the dental implant space who dedicate decent sized marketing budgets through a number of avenues, social media included. The battle ground for brand recognition and lead generation is highly competitive, but there is also a lot of interest and a great need in general in this space. We were up for the challenge and were ready to implement a multi-level social media marketing strategy to support the client's goals that would also set the client up as the trusted expert they are.
Data Tracking
With the depth of this client's marketing arsenal it was critical to be able to distinguish where the leads were coming from, not only for the client but also for our team to determine what strategies are delivering the best results. The journey for a user to convert in this space can range drastically, from an immediate request for a free consultation to months of research and exploration before pulling the trigger to convert. Taking this into consideration, we implemented multi-layer tracking in each of the respective marketing channels, as well as in the backend of the website.
Strategy
Our Social Media marketing team developed a strategy that involved:
A consistent, ongoing SM calendar to promote brand trust
Frequent management of the SM profiles to promote brand engagement and trust
Brand awareness SM ads
Lead generation SM ads
SM ad testing—audience targeting, remarketing, creative assets, geographical
The strategic combination of both organic and paid initiatives resulted in a cultivation of brand awareness, trust, and growth on their social channels, in addition to a steady stream of quality lead conversions. Additionally, despite the unforeseen impact from the coronavirus pandemic, our attention to detail and refined SM marketing strategy helped us continue down a productive, results-oriented path for our client.
Results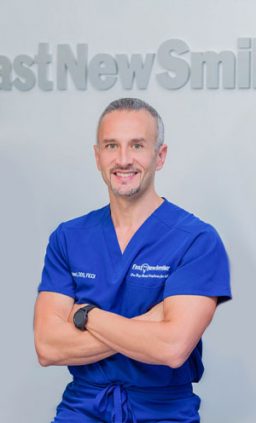 +236%
Total Facebook Engagement Growth
+42%
Instagram Followers Growth
Dr. Riad Almasri - FastNewSmile® Dental Implant Center
Data reflected covers January 2020-July 2020.
Audience size for both the Facebook and Instagram company profiles maintained an upward trend in growth, adding new followers to each page consistently over this seven-month time frame.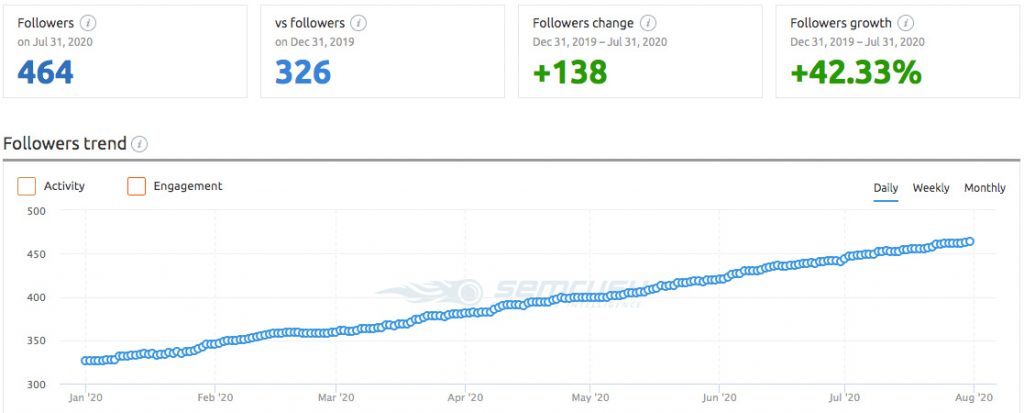 Organic (not paid) engagement increased throughout this period of time, which ties into the increase of brand trust for the client within their audience and "fan" base, which is a vital part of the overall social media marketing strategy.

For paid social media advertising, we focused on two primary campaign objectives: Brand Engagement and Lead Conversion. Below is a high-level overview of the primary impact of these two combined social media campaigns tracked through the Facebook advertising platform.
*Please note: Due to the lack of data provided by the previous agency we were unable to do a 1-to-1 comparison of the progress, so instead we're using healthcare industry averages as a benchmark for success for specific metrics, as appropriate.

For the Brand Awareness Campaign
CTR (Click-Through Rate) Averages:
*Healthcare Industry—0.83%
FNS (CTR All)—2.66%
FNS (CTR Link Clicks)—0.98%
CPC (Cost per Click) Averages:
*Healthcare Industry—$1.32
FNS (CPC All)—$0.26
FNS (CPC Link Clicks)—$0.71
For the Lead Conversion Campaign
Conversion Rate Averages:
*Healthcare Industry—11%
FNS (Lead Conversions/Unique Link Clicks)—11.6%
Cost per Action Averages:
*Healthcare Industry—$12.31
FNS (Cost per Engagement Action)—$1.60
FNS (CPC Link Click Action)—$2.52
FNS (CPC Unique Link Click Action)—$3.79
*Average benchmark data points were acquired from WordStream.
Through Facebook Ads Manager and Pixel tracking we've identified 2,000+ leads directly from social media advertising efforts during this time. In addition, we have tracked over 3,800+ completed goal actions through the additional tracking layers on the backend of the website that are attributed to our social media efforts. The 2,000+ leads contributed to the 3,800+ goal actions tracked on the website—it's important to note this data point takes into account the users who might not have converted right away, but who did convert after first being driven to the site from social media efforts, both paid and organic.
RELENTLESS. TRANSPARENT. OUTSTANDING. TRUE PROFESSIONALS. What our clients say
"I have been using SEO Dogs for five years and they have helped my business grow significantly."
Tony Street - Chef & Co-Owner, Y.O. Ranch Steakhouse
"SEO Dogs is AMAZING!! They helped us out with getting our Website up and running and now not only do we have a beautiful Website, but we are amazed how quick our SEO grew in such a short time! Stay Kalm is much better for having SEO Dogs in our corner!!!!"
Juan Carrasco - (CEO), Stay Kalm Insurance
Load more testimonials