What is Content Clustering, and Why is it Important to SEO?
Posted - January 19, 2023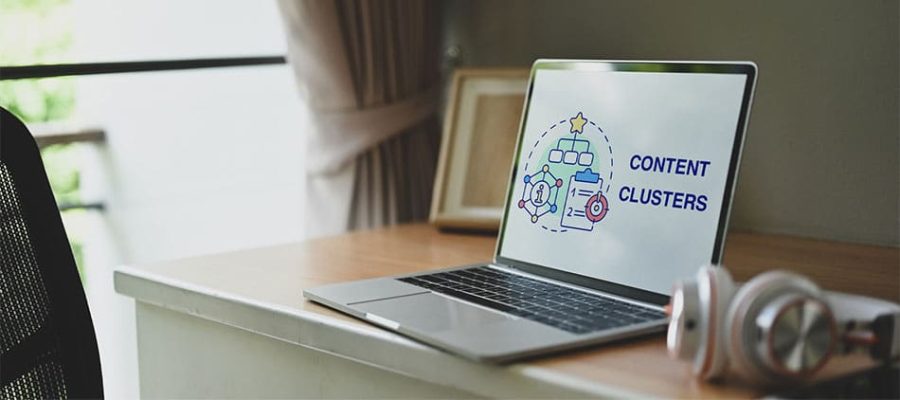 If you have a site with excellent content, you have the initial building blocks to rank well on search engine results pages (SERPs) However, issues like poor structure and bad internal linking are poor search engine optimization (SEO) practices that can leave great content on pages two and beyond in search results.
Content clustering is an SEO strategy that takes your site's content and optimizes its structure and linking capabilities by topic relevance. Search engines can then quickly review your site's clusters and effectively rank you for the most relevant keywords and search results.
Yes, we know that was a lot to take in at once. So, join us as we dive into what content clustering is and why it matters for your site's SEO.
What is Content Clustering?
Content Clustering means organizing content structure in a way that helps search engines and users easily crawl and index pages. Clustered content centers around a key pillar content piece (i.e. a service page or long-form blog) with a specific keyword focus. Any content that uses the keyword or focuses on related keywords and long-tail phrases, falls under the cluster. Having a cluster of related content can work with search engine algorithms to help you rank for higher difficulty keywords.
An example of content clustering would be something like this. Let's say you own a company and a coffee maker is one of the main products you sell. Your coffee maker's main product page will be the pillar point of your cluster. 
Since the keyword "coffee maker" is an extremely competitive keyword, the ranking difficulty of one pillar page is very high. So, you could create blogs and related content that centers around "coffee maker" to help boost your site's authority when a user searches for that keyword.
What Are the Benefits of a Content Cluster?
Content clusters may seem like a simple organization strategy, but the truth is, clustering really can have an impact on your site's rankings.
Current Google algorithms have advanced to the point where they give users the most accurate answer to a query as possible.
Content clusters make it easier for crawlers to review your site and determine the purpose of its pages. Essentially, the more content pieces that link to a cluster, the more accurate indexing results are.
The result of better indexing is eventually:
Greater SERP visibility
Keyword authority 
More qualified site traffic/higher conversions
How to Create an Effective Content Cluster
Creating a content cluster involves carefully analyzing your website and its content to determine the most logical topics and subjects you can successfully group together. 
This is typically done through the use of keyword research, competitor analysis, internal linking analysis, and other SEO techniques.
Create a Keyword Map
A keyword map can help you visibly create clusters around your site's pillar content and displays the related keywords that will form the total cluster. 
Your pillar content should be at the center and will likely be the vaguest content on the topic. 
Your keyword map should link and display how each piece of relevant content connects to the pillar page based on the keywords used. 
Each topic should include several pieces of content with varying levels of detail and internal links that connect back to the relevant topic pages or sub-topics. 
Focus on Individual Page Structure
When creating a content cluster strategy, it is also important to consider the user experience. Pages within clusters should be well-structured and easy for visitors to navigate from one piece of content to another.
This structure is possible through internal linking that is clear and lets users know exactly where their next click will take them. 
Keep Your Keywords Updated
Content clusters won't stay effective on their own. It's up to you and your SEO team to review up-to-date keywords and identify new or phrases that align with each topic or subtopic. 
Keeping your keywords updated will maximize reach potential with search engines and users alike. 
Always Review Your Progress
As with any aspect of SEO, you'll need to review how well your content clusters perform across the SERPs. 
We suggest a monthly review of your progress against competitors' websites in order ensure you remain ahead of the game when it comes to ranking for high-difficulty keywords. 
What Role Does Content Clustering Have for the Future of SEO?
Content clustering is becoming an increasingly important factor in SEO. As search engines become more sophisticated, they can better understand the context of a website and its content. 
Content clustering helps search engine bots make sense of the connections between different pieces of content on a website, allowing them to better index websites and provide more relevant results for users. 
Content clustering has become a staple in SEO and we think the future of the practice remains bright. 
If a business wants to stand out from the competition in organic search results, content clustering is necessary for its SEO strategy. With careful planning and strategic implementation, content clusters can improve the overall user experience of a website, while giving it the extra boost in rankings it deserves.
If you're ready to utilize your content to the best of its ability, let the team at Dallas SEO Dogs help. Our content specialists can help you organize and structure your content so search engines and audiences know exactly what to look for across your pages.
From structure to content creation and backend content management, we have you covered. Reach out to us today to schedule your free consultation with a team member.