Dallas SEO Dogs Digs Up a New Site!
Posted - July 20, 2018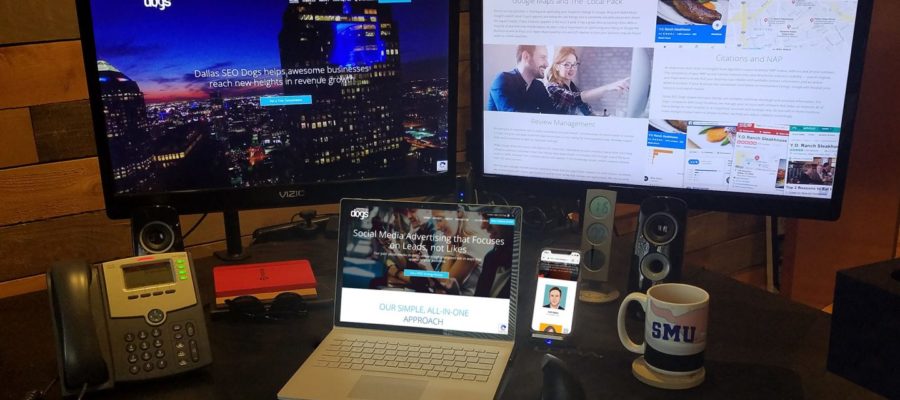 Woohoo! We launched our new website (finally)!
After creating successful, user-friendly sites for our numerous clients over the years, Dallas SEO Dogs has taken some time to focus on ourselves. We are proud to unveil our new site where we plan on continuing to improve its quality for potential clients to use.
So… what's changed?
When we made the choice to improve the design and user-friendliness of our site, we approached it with the customer experience in mind. This means creating ease of navigation, updated content to browse through, and even more services to help us make your site better!
Mobile-Friendly
The number one focus of our new site is mobile friendliness. We can admit that our old site was not the easiest on the eyes when scrolling through on a mobile device. Thanks to our top-notch development team, we were able to turn this issue around.
With the new site we really tried to design it in mind for mobile-use as well as desktops. This is such a key goal, because currently, Google is now ranking sites based on mobile friendliness.
User-Friendly and Fresh Content
While our old site attracted many new clients over the years, we found that it was difficult to digest the amount of content that we provided on each page.
We took the time, worked on the site, and made sure that each page was user friendly and allowed readers to find the information that they wanted to see. This is done through well-placed accordion lists and FAQs on each page that make finding information simple.
Chat Function
Even though our page strives to give you all of the information you need on our services, you may still have further questions. We have added a chat function that allows you to personally interact with the team and help get your project started sooner.
We're Providing Many More Services in 2018
Dallas SEO Dogs is now making the effort to place more focus on local search for local businesses. Most of our clients are local, and with the success of their sites and their return rate to our SEO services, we know that local client projects are something we are great at.
As a company, we have added several services to further improve our work with local clients. These new services can be found on our site now, and they cover:
Re-Marketing
Re-marketing is an important tool to help attract repeat visitors to your site and bring past guests back. This strategy requires knowledge of local business trends. Our experienced PPC management team is able to help you identify these trends and get more return business to your site.
Review Management
For local businesses, excellent customer reviews are everything. Our review management specialists will be able to help you communicate with your customer base and grow these important online reviews. We also use this service as an opportunity to help you take in feedback and improve your business.
Technical SEO Audits
This service is important for any website, but even more important for larger websites looking to get through the process of technical audits the right way. These audits take time and expertise to be performed correctly; let Dallas SEO Dogs be the helping hand that carries out these helpful tasks for you.
Social Media Advertising
We have learned that routine social media is effective for branding and keeping in touch with followers, but not for gaining them. In order to gain followers, businesses now have to advertise and convince people to listen to the message. Let our social media gurus lead your business to new customers with strategic advertising campaigns that you approve!
Dallas SEO Dogs Wants to Hear Your Feedback!
We thank you for checking out our new site but we are always looking for ways that we can improve for you. If you are scrolling through our site and notice something that we can change, let us know! Our goal to be the Metroplex's go-to SEO firm can further be accomplished by feedback from you.
If you are a local business that is eager to step-up their SEO game and get noticed as a leader in your industry, contact Dallas SEO Dogs today to find out how we can use our expertise to help you!