What's New In Facebook's Facelift: A Complete User's Guide
Posted - August 24, 2022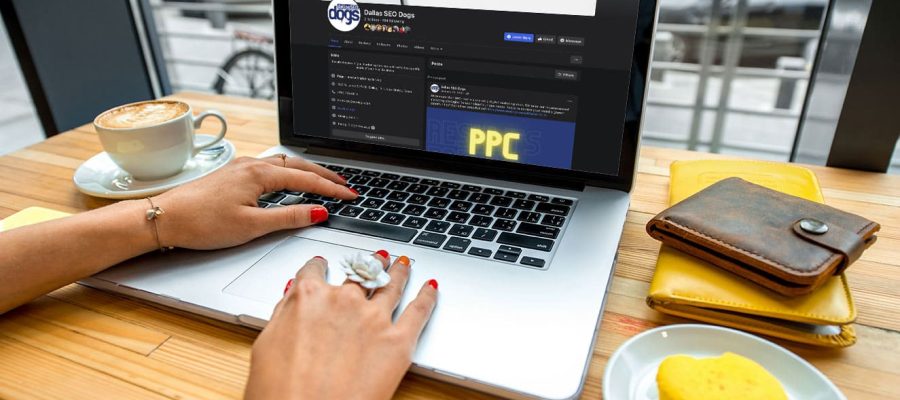 Facebook, AKA, Meta, AKA, the fuel behind your brand's online presence, is constantly changing. Sometimes change can be as small as new videos from Instagram becoming instant reels. Sometimes it can be as monumental as recent changes the social media mogul rolled out.
You may have noticed prompts on your Facebook page explaining that your Facebook page will see a new "Page experience." We have created this guide to help inform and explain the changes coming with this Facebook Update.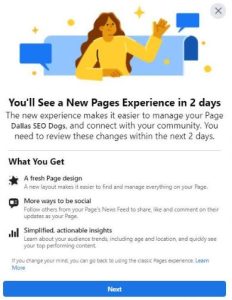 How Does Facebook Matter to Your SEO?
Social media doesn't directly impact your search engine optimization rankings (SEO). Yet, engagement with your posts, shares, and organic follower growth do a lot for your SEO.
A solid social media presence:
Cultivates brand authority

Improves your backlink profile

Grows your global audience

Puts your content at the front of search results
What's New in the Metaverse?
Social media is essential in most SEO strategies, with Facebook being the head of the pack. Thus, when changes in the Metaverse happen, you need to be the first to know what they are.
Here's our look at four of the most critical updates Facebook released over the last month.
New Page Experience
The new Facebook Page experience brings admins a redesigned layout that is cleaner, more user-friendly, and encourages intuitive exploration.
Some of the most significant additions to the New Page experience are:


Admins can now easily switch profiles between a public Page and managing an individual profile.
The ability to seamlessly follow and interact with other public figures and brands.

This can cultivate new relationships that personalize your Facebook experience but also increase your brand authority, increase your page's followers, and increase your rankings on search results.

Separation of Page Feed and profile;

This allows you to experiment with the content that reaches your Feed without clogging up your profile. As long as you have admin control over your Page, you can view your Feed and enjoy an incredibly personalized experience.
New Feature Access With a New Facebook Experience
Page management received an overhaul as well. Now, admins can gain a little help and give others task access to manage the Page and specified features.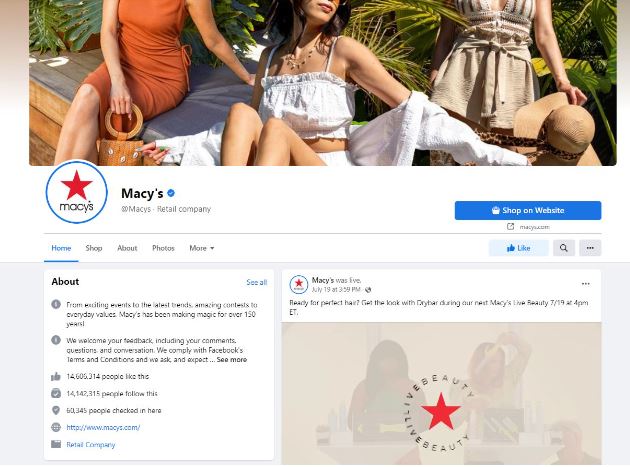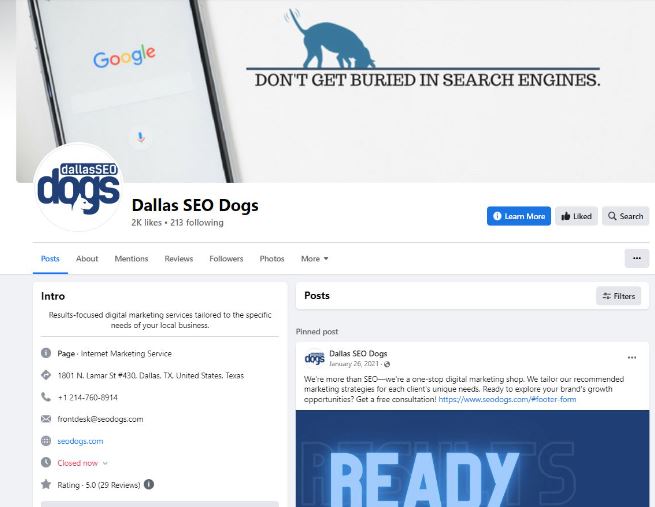 The best part is that anyone who was previously an admin on the Page will retain Facebook access after transitioning to the new Page experience. 
If you have Facebook access to a new Page, you will have access to the following admin features:
The ability to manage and edit all settings and content (i.e., posts and stories) across your Page

Full content creation capabilities

Interaction with your audience that directly messages your Page's inbox

Comment response and removal capabilities 

Report unfavorable activity on the Page

Ad management across all social media platforms

The ability to review Page, post, and ad performance analytics

Instagram account linking with your Page

Access to Facebook tools that help monetize your Page's content and ad campaigns

Page management from Meta Business Suite, Ads Manager, and Creator Studio
New Home Tab
Your Facebook home tab has always been the driving force for new content discovery. Facebook's latest Feeds tab launch provides a new way to find the most recent posts from your friends, Favorites, Pages, and groups. 
With the new home tab, you can curate a favorites list of the friends and Pages you care about most and filter their content within the new tab.
Home is the new name of the tab you first see when you open Facebook to discover new content. From here, you can easily access Reels and Stories from Home and get personalized recommendations for content that makes your Facebook experience more personal and valuable.
Gear Up for More AI-Driven Content
AI-driven content is the latest way social media platforms feed audiences relevant content and create engagement. Facebook already has this content approach in place but is working hard to become more like TikTok, an app with AI-driven content in its main feed's driver seat.
Through AI-driven content, a curated list of the most popular content from across the platform tailors to your interests. META is updating its platform to align with this strategy and ensure your page's visitors receive the content they want to see and will interact with.
According to Mark Zuckerberg, "One of the main transformations in our business right now is that social feeds are going from being driven primarily by the people and accounts you follow to increasingly also being driven by AI recommending content that you'll find interesting from across Facebook or Instagram, even if you don't follow those creators."
Zuckerberg added that social content from people you know would remain an essential part of the experience and some of the site's most differentiated content.
"Increasingly, we'll also be able to supplement that with other interesting content from across our networks," Zuckerberg said. "Right now, about 15% of the content in a person's Facebook feed and a little more than that of their Instagram feed is recommended by our AI from people, groups, or accounts you don't follow. We expect these numbers to more than double by the end of next year."
Will New Pages Impact Your Current Admin Tools/Features Access?
Fortunately for most Page managers, the new Pages won't impact much of what you can already do on your Page.
However, some Page roles like moderators and editors will not be available with this update. The transition to a new Page also eliminates the ability to have location management capabilities and a Global Page structure.
So, what features remain?
Pages will retain existing likes and followers.

Visible Like and Follow counts for admins.

Publishing tools and the ability to schedule posts

Business features (i.e., Jobs and Appointments)

Reviews, check-ins, Classic Page templates

The ability to manage your new Page from the Facebook mobile app; Note that this is impossible through mobile web browsers.
Stay up-to-date on Social Media Improvements With Dallas SEO Dogs.
Social media is vital for your brand but can quickly become a full-time job. Don't let social media needs pull you away from your daily tasks at your business.
Let the specialists of Dallas SEO Dogs help you take control of your social media presence. From content creation to ad management, we can be the driving force that propels your authority into Google's limelight.
Reach out to us today and schedule your free consultation!