Why Should Your Optimization Aim for Rich Snippets?
Posted - February 23, 2022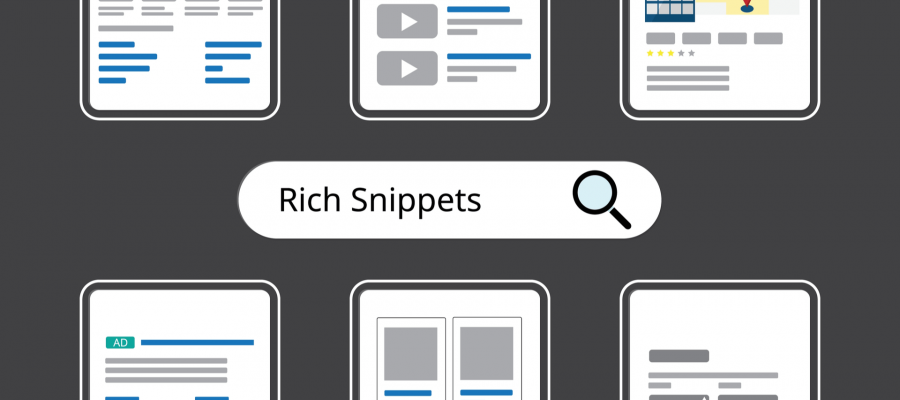 Search engine optimization (SEO) is a process that aims to increase site traffic, boost audience engagement, and improve the overall search experience for users. So, over the years, we've discussed the many ways to optimize a site that keeps users engaged once you've reeled them in. But how exactly can you optimize your site to attract users from the search engine results page (SERP) itself? Aside from writing a highly optimized meta description, many site managers may be left scratching their heads for further improvements; enter rich snippet optimization. As the latest way to attract users to a site, rich snippets are the key to garnering interest directly from the SERPs. Let's dive deeper into what rich snippets are, why they're important, and how you can start optimizing your content for success.
What Are Rich Snippets?
Rich snippets are site markups that create special features found in qualifying search results. Aside from a site's general meta description, rich snippets are an even more advanced "sneak preview" of what a user can expect when clicking on a site. Additional information like reviews, price ranges, and event dates give users more information to work with when determining the click-worthiness of a website that pops up on the search engine results page (SERP).
What Are the Most Common Rich Snippets?
Some of the most common rich snippets that sites implement in their code for improved search results are:
Product markup that includes essential attributes of specific products
Music markup that adds information about the artist, album, release date, and more
Review markups that display clear ratings for products and services
Event markup that displays specifics about the event (i.e. location, time, and date)
Why Should You Want Rich Snippets for Higher Ranking?
Even with great optimization practices, rich snippets aren't something Google can guarantee for any site. So, why should you put the time and effort into optimizing for the chance at gaining rich snippets? The answer is simple: Rich snippets improve a user's search experience and allow them to make quick, confident decisions in the links they click on after a query. Let's take a closer look at why rich snippets should be the ultimate goal for your SEO.
Rich Snippets Immediately Catch the Eye
The added details that rich snippets bring to a search result instantly catch a user's attention. Even before digging into the details of your search result, any results that display more general information about a site in question are going to attract more attention than the average search result.
Provide the Opportunity for More Quality Results
Rich snippet results typically offer more quality results that best reflect a user's search intent. Greater relevance leads to a better search experience and increased opportunity for user engagement with your site.
The Potential for Increased Click-Through Rate (CTR)
Quality results with the presence of rich snippets do add to the potential of an increased CTR for your site. However, there are a couple of potential downsides to keep in mind when it comes to rich snippets:
Sometimes your results may be too good and your audience will gather the information they need based on your rich snippets alone.
Your rich snippets may provide information that potential users don't want to see from their search results, leading them to click on a competing site.
Is it Difficult to Optimize a Site for Rich Snippets?
Rich snippets are the reward for structured data features that require knowledge of backend edits in your site's code. If creating structured data for your site isn't your forte, it may be time to reach out to a digital marketing team that can help you update your site's code to help make its search results' content pop. However, if you want to try to optimize your site for rich snippets, Schema.org structured data is an excellent first step towards tweaking your site to perfection. Using Schema.org, you can search your industry and target keywords to uncover predefined datatypes that you can implement within your site. The best part about using Schema.org is that Google and all other search engines widely accept the structure and vocabulary it recommends in its results.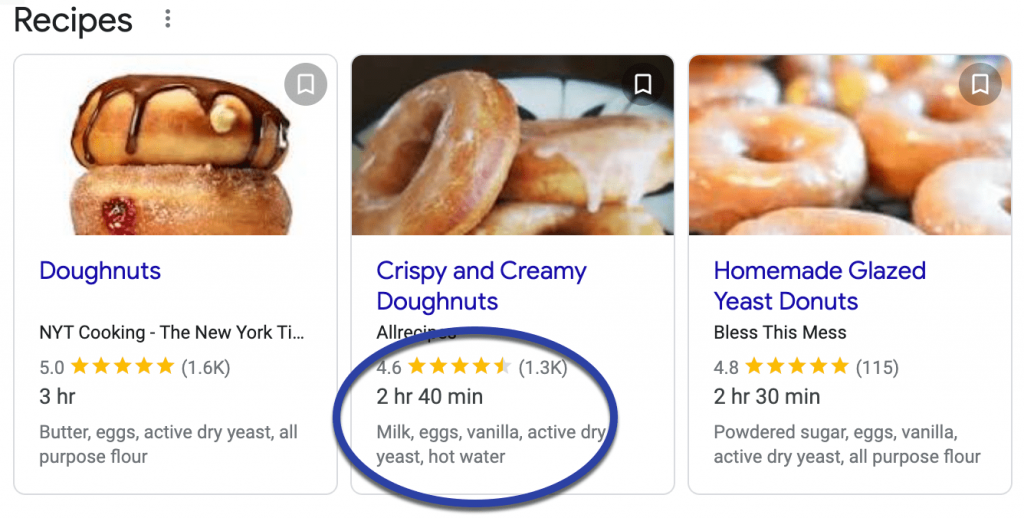 How to Get Rich Snippets in 5 Steps
If you plan on implementing your own markup language throughout your pages, always consider these 5 steps that can lead to rich snippets in search results:
Determine the schema type.
Select the required & recommended schema properties.
Create JSON-LD structured data markup.
Validate the schema with the Rich Result Test.
Review SERPs for the rich snippet.
Remember, you don't have to mark up every piece of content on your website, but doing so as much as possible on your site's visible content only increases your chances of rich snippets and greater long-term rankings.
How Often Should You Optimize for Rich Snippets?
Many people think that once they've optimized their site for potential rich snippets that the gold will instantly pour in. Unfortunately, SEO is a slow and sometimes meticulous process and it can take up to 8 weeks for a site to secure semi-permanent rich snippets.
We suggest making optimization efforts and standing by for a couple of months to see if your rankings improve and if you've gained any rich snippets. If you don't see the desired results after 2 months, it's safe to say your site needs some more work.
However, being impatient and constantly making changes to your markup every couple of weeks doesn't give search engines the time to properly analyze and assess your markup for the data it needs to deem your site relevant.
Still Stumped on Rich Snippets, Dallas SEO Dogs Can Help!
If you're new to implementing elements of SEO within your site, rich snippets are most likely an advanced move if you've performed your own optimization until now. While adding rich snippets may be a daunting task, they help make your site's content instantly identifiable for search engines on the hunt for relevant search results.
Don't leave your site in the lurch once you've hit your DIY SEO obstacles. Let the experts at Dallas SEO Dogs help you overcome your hurdles. From schema to original content creation, our team has your site covered.
Contact us today to schedule your free consultation with a member of our team.