State of Search 2014 Dallas SEO Conference
Posted - November 19, 2014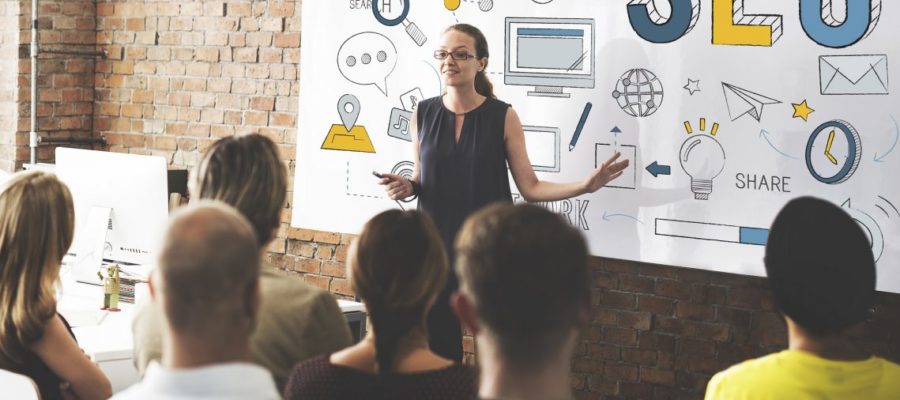 The 2014 DFWSEM State of Search conference was the association's first year for hosting 2 days of speakers. From Search Engine Optimization to PPC and Remarketing to Social Media, the conference held four tracks that featured industry experts from all around the nation to provide tips and information to help all of us improve and enhance our search engine marketing campaigns.
State of Search Day 1
After registration and a delicious breakfast, the first keynote speaker Marty Weintraub opened the conference by reviewing the common thoughts and ideas that are considered when not implementing social media into our SEM campaigns. The hot topic he also brought up is how important it is for all businesses to be actively on Google Plus and how social media is connected and does contribute to SEO. From there, everyone was able to head off to the different conference rooms where many SEO topics were presented and discussed.
SEO Track – Throughout the day multiple experts spoke on SEO topics relating to digital strategies, managing/handling Google updates and changes, new levels of keyword research, link building tips, new approaches to SEO and much more, which were all on different levels of experience in the field.
Local Track – This conference room brought up many topics relating to local search from user behavior to local search correlating with social to content marketing and what to expect with the future of reviews.
PPC Track – Many Pay Per Click experts expressed all types of unique tactics and tricks for enhancing PPC efforts relating to keywords, local, national, international, Google Adwords, seasonal and even social network advertising.
Social Track – With the ever changing social media world, experts discussed the updates, how to compete, being effective and efficient, and different strategies across all the social networks.
State of Search Day 2
The conference continued to day two with the opening keynote speaker Will Reynolds, the founder of SEER Interactive, who brought up topics about how advertising has changed over the last century and a half; from the innovating marketing tactics of Michelin Tires and their representation with the Head Chefs of Michelin to the branding of Guinness and the Guinness Book of World Records. Will mentioned simple yet important statements such as "would you rather build a brand or build a link" and "everything is SEO"; these comments were effective and can really get you thinking about the long term impact of what we do as SEO experts and online marketing.
Important SEO Topics Discussed on Day Two of State of Search
Google Algo Update – Well known in SEO, Bill Hartzer reiterated the recent Google Algorithm Updates and how to handle different issues and situations regarding low quality pages/sites, importance of high-quality content, page layout, https vs http, and more.
Site Crawls – What To Do & What To Look For – Kate Morris broke down Site Crawls by prioritizing the different website errors and what to tackle first and how to tackle it.
De-Mystifying Mobile Search – Cindy Krum explained Mobile SEO in regards to optimizing your mobile sites, how mobile is surpassing desktop search, the benefits of responsive sites versus mobile sites and the upcoming changes with mobile search and SEO.
The State of Search closing keynote speech was given by Duane Forrester who has spoken at the conference multiple times in the past and always brings up many compelling topics. He reflected on the past, present and future relating to technology, business, advertising and SEO. Building up with many topics that resonate with all of us from different eras and backgrounds, Duane then led into his core message and what to take from his speech…SEO still matters and includes everything! It's all about satisfying the user!