The Google Analytics 4 Switch and What It Means
Posted - May 12, 2023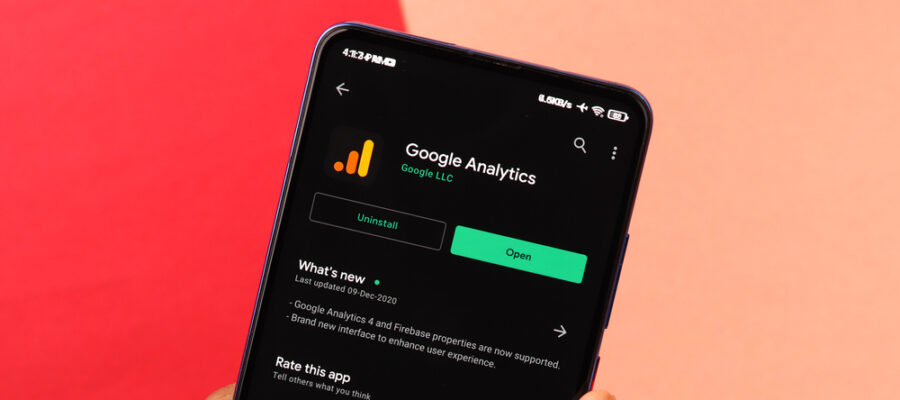 Google Analytics 4 (GA4) debuted in October 2020, representing significant changes and updates. On June 30, 2023, Google will finally and permanently sunset its predecessor, Universal Analytics. 
But that's not bad news. GA4 makes for a much more powerful and flexible tool for tracking and analyzing user behavior across multiple digital platforms, as we'll see below. 
"Universal Analytics was built for a generation of online measurement that was anchored in the desktop web, independent sessions, and more easily observable data from cookies. This measurement methodology is quickly becoming obsolete." – Google's Product Management Director, Russell Ketchum.
One of the most notable recent changes in GA4 is an updated user interface (UI). It's easier to navigate, helping you quickly find the info you need and customize your reports and dashboards. And that's just the beginning! Let's take a closer look at some recent GA4 developments.
Cross-Domain Tracking
With the improved cross-domain tracking features in GA4, you can track users across multiple domains, subdomains, or microsites. This provides a more comprehensive view of user behavior and journeys, which means more informed decisions about your sales and marketing efforts.
Tracking users across multiple domains has been challenging for large businesses with numerous digital properties. You may have had to rely on separate analytics accounts for each domain. 
But with GA4's recent improvements, you can track user behavior across multiple digital properties in one account. That means insights into how they interact with your digital properties, the content that resonates with them, and the actions they take throughout the funnel. 
Event-Based Tracking
With event-driven analytics, you can track specific events like clicks, form submissions, video plays, and more. These give invaluable insight into how users interact with your properties and can help you optimize your marketing strategies by focusing on trends in user behavior.
Businesses can fine-tune their approach to deliver a better customer experience by tracking custom events and user interactions. 
Say a business notices its users are abandoning the shopping cart at a specific point in the checkout process. They can use these event-driven analytics to identify the problem and optimize checkout, improving user experience and increasing conversions. 
Machine Learning
As customers expect a continually more personalized experience, they demand content and marketing messages relevant to their interests, needs, and preferences. GA4's machine learning algorithms can follow user behaviors and predict future trends, letting you deliver more personalized and relevant content. It could even replace cookies sometime soon.
Imagine using machine learning to identify which products or services will interest a customer based on past behavior like browsing history or purchase history. This can help create personalized marketing messages, audience-centric content, increasing conversions and helping you build customer loyalty and brand advocates. 
GA4 can identify these patterns and trends by analyzing large datasets. If GA4 were to identify that a particular segment of customers is more likely to engage with video than written content, you could create more video content for them, delivering a better customer experience.
Google Ads Integration With GA4
GA4's improved integration with Google Ads makes it easier to get a comprehensive view of the customer journey, from ad click to conversion, in one place. That's a game-changer for businesses looking to optimize their PPC spend and make data-driven decisions about marketing strategy: 
Which ads drive the most conversions? Which ads should you optimize or discontinue? This info means better and more informed decisions about advertising spend and allocating resources to the most effective channels.
Because this integration also enables you to track customer behavior across multiple digital platforms, you could see that a customer clicked on a mobile ad but completed their purchase on a desktop. This way, you can optimize ad campaigns for different devices and platforms, delivering a better customer experience and driving even more conversions.
Reporting Tools
GA4's powerful analysis tools can give you tons of insight into your performance! Let's take a look at what you can expect as you buckle up and adjust to the new GA4 standards.
Exploration
GA4 lets you explore your data and uncover insights through ad hoc analysis. Use this tool to your advantage and visualize data in various ways, filter your data, and create segments (i,e. Users from a particular city, users in a specific age group, what users are buying, etc.). From there, you can keep a close eye on the data that matters most without having to sift through mass amounts at any given time.
Funnel Analysis
You want your marketing funnel to be a smooth route to a conversion and sale. However, as audiences can be fickle and easily scared off, this isn't always the case.
With this tool, you can see the steps users take in your conversion process and see where they drop off. You can then use this info to optimize your processes and improve conversions.
Path Analysis 
Path analysis helps you visualize the most common paths of users through your site or app. This can show you popular content and user flows, not to mention those areas where users need help and you can improve through optimization.
User Analysis 
With GA4, you can analyze individual user behavior and create segments based on it. This helps identify valuable segments and creates more personalized experiences for users.
Tips for Making the Shift to GA4 and Rank Success!
"It's increasingly important for us to be able to make accurate predictions and recommendations based on user behavior, and GA4 really allows us to get granular [when] tracking user interaction." – Manuel Gonzalez, founder, and CEO of strategy consulting firm G & Co. 
The conversion from Universal Analytics (UA) to GA4 can be daunting, but there's no time left to procrastinate. GA4 is here, and UA is going away incredibly soon. It's best to get your data flow in order now so you can handle the bag. 
Here are three tips to help you survive the conversion and make the most of GA4!
Tip #1: Plan Ahead
Please familiarize yourself with the new features and capabilities of GA4 and how they differ from UA. Create a conversion plan that outlines the steps you need to take, like setting up your GA4 property and configuring tracking codes. Planning will minimize disruptions to your business and ensure a smooth transition.
Tip #2: Analyze Your Data
Take this opportunity to analyze your existing data and identify any gaps or areas for improvement in its analysis. Take a closer look at your current tracking and identify any data that might go missing or even be inaccurate. 
Now you know the data you need to track in GA4 so you can be sure you're collecting accurate and relevant data for your business, and the only thing left is to design your data migration plan.
Tip #3: Have Fun 
GA4 offers so many new features and capabilities that weren't available in UA. By exploring, you'll learn how to use them and how they can benefit your business. Let it be an opportunity to look at your funnel and journeys from a new perspective and see if you need to make any changes.
Read over the changes above and imagine how each could inspire change or even growth in your marketing approach. Do you have multiple domains and subdomains? Questions about some parts of your conversion funnel? Curious about user behaviors? You can get very specific with your questions now, whatever your business aims and GA4 can help.
Let Dallas SEO Dogs Worry About Your Analytics
It's clear that the latest developments we've covered make GA4 an even more powerful and flexible tool to track and analyze user behavior across multiple platforms. 
However, it's a lot to learn and it makes sense that some of these changes can leave new users scrambling for safety. If you're a brand owner that needs help adjusting to the shift, Dallas SEO Dogs can help you take advantage of all the new features and capabilities of GA4 as we grow your traffic and work on your conversions. 
We are constantly learning and developing our processes to ensure your strategy aligns with the latest GA4 standards! If you're looking for help with GA4 implementation, site optimization or want better customers more consistently, schedule your free consultation today!