Top 8 Recommended WordPress Plugins for SEO
Posted - May 6, 2020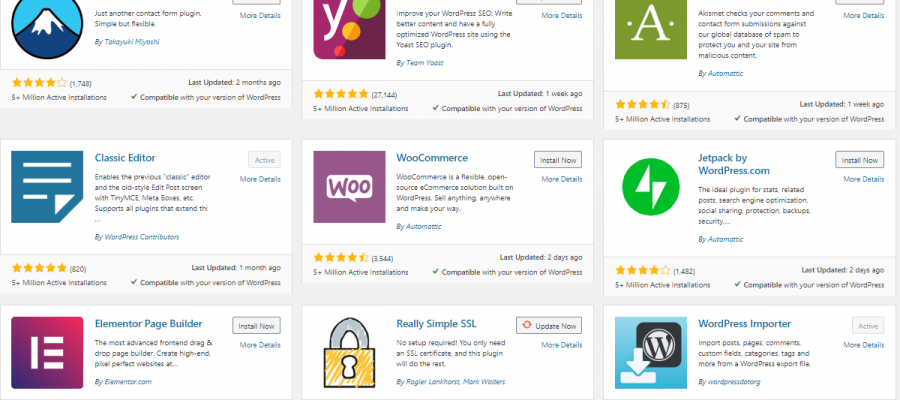 Sure, many business owners with websites know that WordPress can be a useful CMS with search engine optimization (SEO) in mind. Although it may be a great idea to convert your current website to a WordPress site, there are several switches and plugins you'll have to toggle in order to truly turn your site into an optimization machine. At Dallas SEO Dogs, we love to use plugins as a means to achieving some of the goals we set for our clients. Here are our top 8 recommendations for WordPress newbies!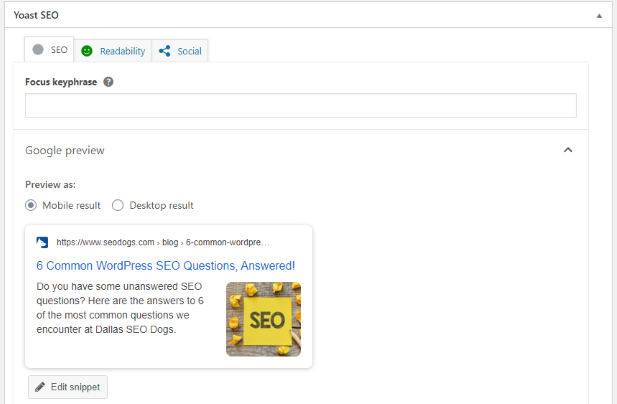 1.  YOAST SEO
Yoast is one of the most used plugins on WordPress for a reason. When it comes down to it, Yoast SEO makes optimization on your WordPress website extremely accessible. With Yoast, not only can you easily see the SEO value of your content based on targeted keywords, but you can also:
Manage your sitemaps
Create effective title and meta descriptions
Notify search engines the instant new content is published
2.  SEMRush SEO Writing Assistant
Users that are heavily focused on the written word use the SEMRush SEO Writing Assistant to ensure that their content meets the latest SEO standards. This plugin gives users the best possible recommendations for optimizing content. Some of the bases this plugin covers include:
Content readability
A review of the content's quality score
Keyword recommendations
Ensuring link quality
Plagiarism checks
3.  Google XML Sitemaps
If you don't use Yoast to create sitemaps, try this plugin. Remember, Google doesn't rank sites, it ranks pages. That's why it's essential that Google can easily find your pages during a crawl. The best way to ensure this is through an XML sitemap. The Google XML Sitemaps plugin creates XML sitemaps that allow for your maximum information to be available to crawlers during a crawl. Regardless of if you have custom WordPress pages or specialty URLS, this plugin supports your content to the fullest.

4.  Redirection
Broken links can easily damage the progress of your SEO. With the Redirection plugin installed on your WordPress site, you won't have to worry about sludging through your site's links, ensuring that they work properly. This plugin actually reviews your site's content and lets you know when it's found a broken link. You won't even have to visit the page to manage the link. Identify 404s and manage 301 redirects easily with this nifty plugin! It's great for directory and site migrations, too.
5.  Ahrefs SEO WordPress Plugin
There are a plethora of SEO plugins available for WordPress, but one of the most reliable plugins for results is the Ahrefs SEO WordPress Plugin. Some of the biggest ways this plugin stands out from the crowd are done through:
Content performance identification
Monitoring backlinks
Giving users an idea of how their pages and links perform on a daily basis
6.  Autoptimize
Autoptimize is a caching plugin that can help a website work to the performance standards you have set in place. Through the aggregation and minification of scripts and styles on your site's backend, Autoptimize helps your website avoid the slow-down caused by non-aggregated JavaScript, HTML files, Google Fonts, and more. As Autoptimize reduces your overall server load, it increases your site's speed and helps boost an essential aspect of optimization.
7.  WPTouch Mobile Plugin
Mobile-friendliness is one of the most important steps towards a successful website. This plugin helps your content and theme seamlessly transfer from desktop to mobile devices. Keep your content the way you prefer it and don't worry about if it's going to show up well on mobile devices with this Google-preferred plugin.

8.  MonsterInsights
This plugin is known as one of the most installed Google Analytics plugins for WordPress. With this plugin, gone are the days of digging for SEO insight on Google Analytics. MonsterInsights allows you to enable even the most advanced tracking features on your site and directly view the results on your WordPress dashboard. MonsterInsights is easy to use and helps you masterfully direct your website's next SEO steps.
Plug Into Success with the Help of Dallas SEO Dogs
Technical upgrades like the ones we've recommended are always a welcome change for any website's SEO. As our economy begins to reopen, make sure to implement some of these plugins to give your brand a leg up on the competition. While installing these plugins may be a simple click of a few buttons, we understand that your focus may be on how to keep day to day operations running smoothly at this time. That's why we are here to remind you that you're never in this alone and that we are always here to lend a helping hand. Contact us today to schedule a free consultation and learn more about how we can be your brand's rock in these uncertain times.