Twitter Begins Testing 3 New Ad Formats: Why It Matters for You
Posted - April 20, 2022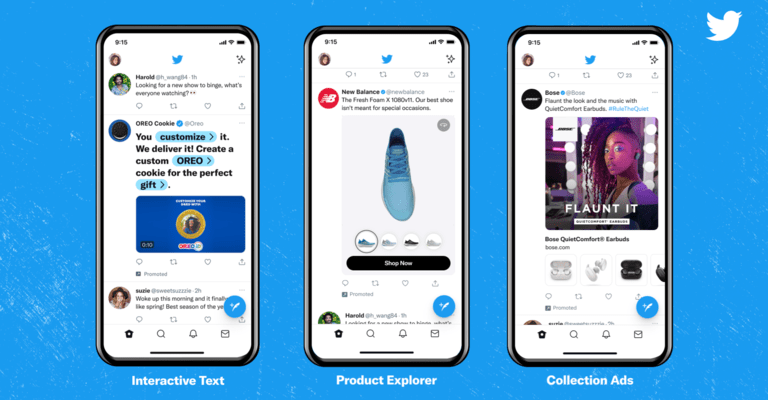 Paid advertising is an excellent way for you to bring your brand to the online doorstep of potential customers. From Facebook Ads Manager to Tik Tok For Business and Google Ads, there is a multitude of platforms where you can spend your advertising dollars.
Twitter Ads is a platform that hasn't received the spotlight that Google or other competitors have, but it looks like the social media platform is ready to make some changes that could benefit your paid ad strategy.
Recently, Twitter began to test 3 new ad formats that could bring exciting changes to the paid advertising world.
Let's take a look at the 3 new ad formats and why you should start thinking about how Twitter Ads could help your business when they make a final rollout!
What Are Twitter Ads?
Twitter is a vast social media platform. Marketing exposure from regular tweets alone isn't enough to gain the recognition your brand deserves.
Enter Twitter Ads.
Twitter Ads is a paid advertising platform that allows you to create campaigns that Twitter promotes to the audience of your choice.
Unlike other platforms, Twitter Ads doesn't have a minimum spend requirement and promotes that it always gives you, the user, total control over your campaign's budget.
Yes, Twitter has a smaller reach than Facebook or other mogul platforms. Yet it still serves as an effective way to round out a paid advertising strategy without breaking the bank.
Based on the latest tests we'll outline below, it looks like Twitter Ads is making moves to change the advertising game and make clicks on their platform an even more profitable outcome for your brand.
3 Ad Formats in Active Testing
Hashtags and following trends can help give your ads the flair for exposure; but let's take a deeper look into the latest ad formats Twitter Ads is testing with big name brands like Oreo, Bud Light, and New Balance.
Interactive Text Ads

Interactive text ads will allow you to stand out from the crowd because they have a bolder and larger text font than the average tweet. Aside from the larger text, you'd be able to create ads and select up to 10 words to highlight.

When you highlight these words in interactive text ads, they become links that move visitors from the ad to your landing page after a click.

What Makes This Format So Exciting?

Instead of creating multiple ads for different landing pages and keywords, this ad format leads customers to each of your important services with one well-crafted tweet!

This format could be a massive time and money saver if you are on a budget for how many ads campaigns your brand can afford.

Collection Ads

Collection ads are sure to be a fun format if you value storytelling within your advertising. These ads allow you to display a static hero ad that displays your main advertising message. However, what makes these ads unique is what lies below the hero message.

Carousels are all the rage in search engine optimization (SEO) because they give visitors the chance to scroll between visual options before clicking on a destination link.

Now, collection ads could use them for Twitter Ads. The key feature of these ads is a carousel scrolling format that offers users thumbnails that drive them towards different products and services in the same ad.

Much like interactive text ads, collection ads give you the option to give audiences a selection of your different products and services in one place. The difference here is the visual display of your products and services that pleases those who need to see what they're looking for before they click.

Product Explorer Ads

Product explorer ads bring the visual appeal of advertising to a whole new level on Twitter Ads. Once these become the norm you can show off your products in all of their 3-dimensional glory. This format lets your customers move your product's image around and examine it before they click on your shop's link in your ad.

We'd love to see this format come to fruition. Product explorer ads could lead to swift audience action, avoiding indecisiveness.
Is There a Timeline for a Complete Rollout?
While we can't tell you when each of these ad formats will roll out, Twitter has given us an idea of how they will test these formats.
According to a blog from Twitter, each of the 3 ad formats is available in the US on:
The web
IOS devices
Android devices
The experiments with these formats are still very new and the social network will examine how consumers react to the ads and how much they impact the revenue of businesses that use them.
Once further testing and tweaking are complete, only then, is a total rollout on the horizon.
Solidify Your Online Advertising Strategy With Dallas SEO Dogs
Online advertising can be a difficult landscape to navigate if you are a business owner trying a new strategic advertising approach. However, with an experienced paid advertising team on your side, all you need to do is approve targeted ads and wait for new customers to engage with your ads and website.
At Dallas SEO Dogs, we make it our mission to help our clients achieve paid ad success and spend their ad budget on the best decisions possible. Whether you rely on Google Ads or social media advertising, our expertise can push you closer to your goals.
We want to meet you and help you to the top of search results! Reach out today to schedule your free consultation with a member of our team.