How Do On-Page & Off-Page SEO Work Together?
Posted - May 4, 2022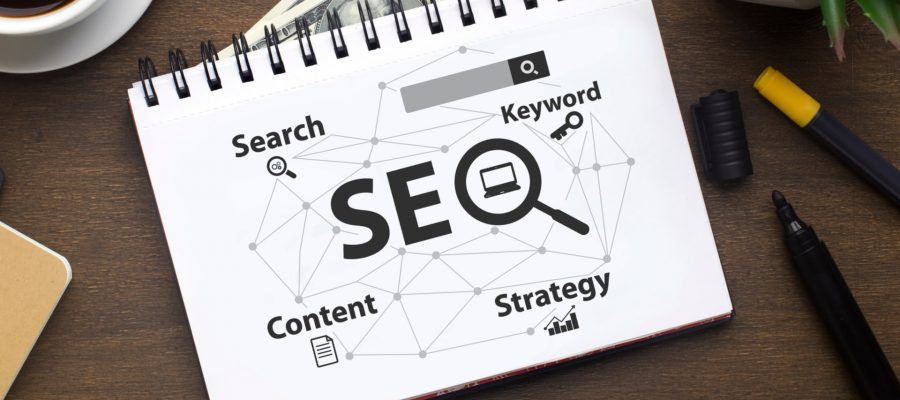 We all know that success in search hinges on your site's search engine optimization (SEO) strategy. A great strategy decreases bounce rates, boosts rankings visibility, and increases engagement.
While you may think SEO stops after search engines crawl your site, on-page optimization is only part of the battle.
Keywords, blogging, and other familiar SEO practices are 70 percent of what matters. There is a world of off-page optimization that rounds out your best practices.
Let's uncover how both off-page and on-page optimization help your long-term rankings.
What is the Key Difference Between On-Page and Off-Page SEO?
Although they are different practices, on-page and off-page SEO work together to help your site succeed.
On-page SEO is the direct improvement to your site, while off-page efforts increase your site's popularity and brand authority.
What is On-Page SEO?
On-page SEO is what you likely think of when you hear "SEO." On-page optimization is work you perform on your own pages that improves visibility.
Any work you do to your site that ensures Google bots can crawl and index it is on-page SEO.
Common on-page optimization efforts are:
Content Quality
Page Speed
Headers
Mobile Friendliness
Title and Meta Description Tags
Internal Linking
Alt Text
On-page optimization improves your site's user experience. Search engines recognize sites that please audiences and rank those sites higher in relevant search results.
Let's get into how on-page SEO actually improves your site's user experience.
Content Quality
Great content will always be "king." Keywords and internal linking give quality content a better shot at ranking. Yet, if the content isn't relevant or useful, all the optimization in the world won't get it off of the ground.
Quality content that ranks has these features:
Long-tail keywords that read how audiences speak/search
Topics that solve user problems
Unique, long-form content that addresses as much as possible about your content's topic
Page Speed
Page speed is a massive ranking factor for on-page SEO. Your audience needs answers, fast. If your web pages take longer than 2 seconds to load, they'll lose interest and move on.
Poor page speed leads to:
Increased bounce rate
Decreased engagement
An injured bottom line
Poor SERP rankings
Mobile Friendliness
Mobile devices are the most prominent way people search for information. You must optimize your web pages for mobile-friendliness. Without mobile optimization, your site may display poorly on mobile devices. Don't lose potential customers to competitors that put mobile friendliness first. Make sure this is one on-page effort you put at the top of your SEO strategy goals.
Headers, Title Tags, and Meta Descriptions
Each of these on-page factors uses keywords and content that help your site stand out on SERPs. They're some of the most important elements of on-page optimization because they:
Let search engines know what your pages are all about
Increase your visibility for specific keywords
Define the subheads within your page's content
Optimizing with these 3 factors in mind will improve your site's navigation, user experience, and indexing.
Internal Linking
Linking to pages within your own site is useful for audiences and search engines. Internal linking lets audiences explore your site and dig deeper into a subject that interests them. It also leads to quicker conversions and sales.
Internal linking typically uses a keyword as anchor text. This practice offers a preview of a page's content and helps search engines find your new content and index it!
Alt Text
Alt-text is an attribute in an image's HTML that describes what the image is. The SEO benefits of alt text are:
Improved user experience on screen readers
Image details that improve search relevance and performance
What is Off-Page SEO?
Once you've finished your on-page optimization, it's time to promote your new content. Off-page SEO is where your site gains authority across third-party sites.
Off-page SEO plays a smaller role in your success. But as your site's authority grows, so will your search engine results page (SERP) rankings.
Off-page SEO practices are:
Backlink Quality
Social Media Promotion
Google Business Profile (GBP)
Here's a closer look at how these practices improve your site's rankings.
Backlinks
The quality of the backlinks that lead back to your site is one of the most important off-page SEO qualifiers. As more sites link to your content, Google sees you as an authority and improves your site's ranking.
Getting backlinks isn't as simple as buying them. In fact, that practice is black hat SEO that goes against Google standards.
Quality link building is hard work that pays off through these practices:
Getting content featured on larger, authoritative websites
Guest blogging
Making industry connections that will share your content
Posting in industry forums
Google Business Profile
GBP is one of the best ways to control the information Google receives about your business. As you build your GBP, you provide essential details about your business that boost your local search success.
The following GBP details help determine your site's authority on local search:
Physical address
Hours of operation
Services
Links to new content
Current business images
Client reviews
While on-page SEO doesn't affect your GBP, the quality of your site still matters. An enticing GBP is worth nothing if your site isn't user-friendly and relevant.
Social Media
Page rank isn't linked to your business's social media popularity. Yet, if your content is excellent and your audience shares it, the clicks and link shares will improve your site's authority.
Maximize Your SEO Efforts With Dallas SEO Dogs
No matter your site's optimization needs, Dallas SEO Dogs has the expertise to help. We approach each site with a unique strategy that helps our clients become authorities in their industry.
From content creation to social media promotion, our practices can help your site elevate its search results.
We'd love to meet you and learn more about your business!
Reach out today and schedule your free consultation with a member of our team.