7 Things Dallas SEO Dogs Learned at State of Search 2021
Posted - November 10, 2021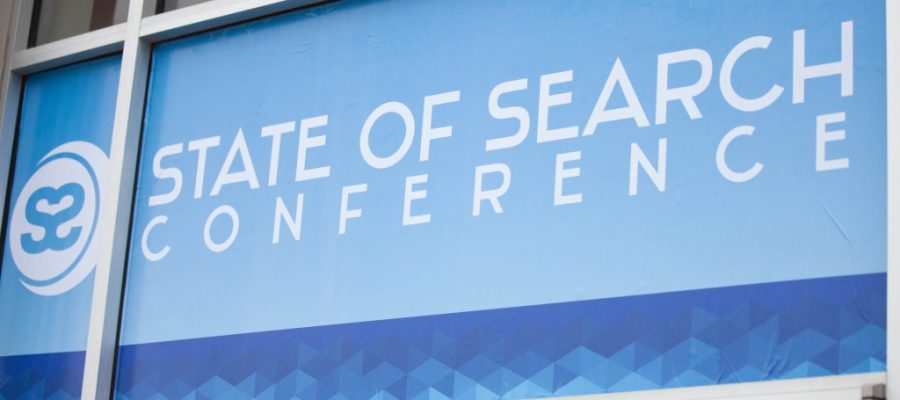 Last week DFWSEM hosted its annual State of Search (SOS) event. While they hosted this year's conference online, there was still much to learn from some of the greatest minds in the search engine optimization (SEO) industry.
SOS is a melding of the minds that Dallas SEO Dogs looks forward to every year because we know there is always a significant amount of knowledge that we can use to improve our SEO services.
This year was no different, and we're excited to put several new practices to work for our clients. Here's a look at 7 industry tidbits we learned at this year's SOS conference.
1. Link Building is a Personal Experience
Michael Johnson of Page One Power spoke to conference attendees about organic link building. Many people believe that link building is a completely automated process that leaves gaining great links up to chance. 
According to Johnson, the reality is that behind every website there is a person that has to monitor and edit it. He says one of the best ways to solicit the links you want for your site is to take a "real person" approach and reach out to the individual that owns the site. 
This helps build connections on a personal level, and while not guaranteeing the link you want, could help your overall linking efforts.
2. Expand Beyond Third-Party Metrics for Link Building and Content Ideas
Johnson also dove into how to create content that relevant sites want to link to. He stressed that with so many industry creators using third-party metrics and programs for content ideas, the web only sees a constant flow of regurgitated content ideas.
In order to stand out amongst the crowd, make sure that your content expands the runway for the number of potential links it could create. However, in order to find relevant content that you would even appreciate linking to, it's going to take a little more work:
Creators should dive into the search engine result pages (SERPs), type in desired main topics, and look at the pages key sites are linking to. From there, determine if your content is similar to that content and what missing pieces are there that your content can add value to. "Content is currency," and that this is a fact that even the leads from Google stand behind.
3. LinkedIn Goes Beyond Internal Job Hunts
Fanny Dunagan of PathLynks, LLC discussed the importance of using social media platforms like LinkedIn beyond being a resume and job search tool. In fact, LinkedIn already has 15X more content impressions than job postings, yet there is still a larger demand for content than the current supply.
Dunagan emphasized that using LinkedIn to attract the 47% of DFW users that are just "lurking" profiles is essential to building a consistent audience and carving out a niche for your brand in a saturated market.
Only 4% of LinkedIn users actually post content. So, by using your experience and stories to connect, you have a greater chance of breaking through to your target audience. 
Aside from taking time out of your day to follow and engage with fellow industry thought leaders, users who want to give their reputation a boost should spend their time posting content that:
Educates

Informs

Inspires

Entertains
4. Customer-Centric Sites Are the True SEO Winners
Eric Enge, of Pilot Holding, is no stranger to the SOS spotlight. Returning as a keynote speaker to the event, he brought insightful, forward-thinking ideas as to how to approach the current search engine audience.
This year, Enge focused on the customer-centric approach all sites should take when trying to climb the SERP rankings. According to Enge, Google is always trying to improve the quality of consumer results, so, sites that prioritize ease of use are the sites that get ahead of the competition.
That is best accomplished through:
Excellent

content writing

Content that emphasizes long-tail keywords (which are a Google priority)

Prioritizing the user experience (a core ranking factor)
5. Excluding a Specific Audience Could Improve Paid Ad Results
Steve Hammer of RankHammer turned successful pay-per-click (PPC) marketing on its head with his presentation about advanced audience targeting.
According to Hammer, for great PPC, it's just as important to know which audiences to exclude as it is to know which to include. It may not always be clear which affinity audience or in-market audience is best for your campaign, but finding audiences that aren't converting and excluding them may prove just as valuable.
In order to sniff out who to exclude, look at all audience categories for all visitors and visitors who have converted. 
If you see a divergence in some categories from your visitors and converting users, these may be good audiences to exclude. Then, you'll be able to focus on the audiences that are eager for your products and services. 
Tangential Content Helps You Reach a Much Larger Audience
Amanda Milligan of Stacker focused on tangential content. This top-of-the-funnel content could be the key to organically reaching a general audience and funneling through new customers towards a conversion.
Tangential content is "zoomed out" content that should create brand awareness, brand authority, and greater link-building possibilities.
When creating tangential content that veers from a direct sales-like blog, writers should ask themselves:
How they can be of service to their audience

What context they can add to trending topics and longstanding challenges

What data they can analyze to bring a new perspective to an age-old topic
7. Breaking Away From "What You See is What You Get" (WYSIWYG) Themes is Essential for Speed
John McAlpin's (Cardinal Digital Marketing) discussion about improving your site's speed reiterated that our team is already on the right track when it comes to making client sites faster and avoiding WYSIWYG editors in development projects.
The unveiling of his new WordPress theme, SEO Grid, definitely intrigues us. His new theme claims that users can earn a PageSpeed Insights score of 90+. We're interested in seeing it in action!
Grow Your SEO Success With the Help of Dallas SEO Dogs
If any of the takeaways we mentioned sound like a great way for you to expand your web presence, Dallas SEO Dogs is ready to help!
We are a team of industry experts that believes constant improvement on our end helps our clients reach their target audiences and the top of search results.
Contact us today to learn more about our services and schedule your free consultation with a team member.