How to Master Fact-Checking for Your Content
Posted - October 11, 2022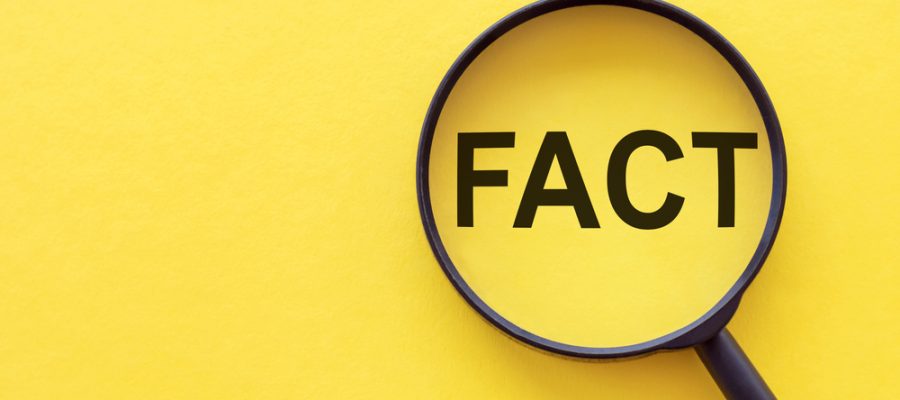 We live in an age where facts are king, and distributing "fake news" can be the kiss of death for any brand that wants to maintain authority.
Fact-checking is essential to building and keeping audience trust, especially if your business directly impacts your audience's life choices (more on that later).
If your brand just started producing content or Google recently flagged you for plagiarism, our guide to mastering fact-checking may help you make your content valuable.
How Does Fact-Checking Benefit Your Ranking?
Why the need for fact-checking? Does it matter if all you're trying to do is sell a product or service?
The short answer is yes. While blogging can rarely fall under the spectrum of hard news journalism, your readers deserve an honest point of view about your product or services.
When your content provides factual information about your industry, it's more likely that readers will connect with it, build trust in your brand, and eventually make a purchase. As your factual content releases and your trusting audience grows, Google will take notice and start ranking your content higher as an authoritative source of information in relevant searches.
8 Fact-Checking Best Practices
The domino effect that leads to greater rankings and even more conversions starts with honest, well-produced content. 
Take a stand against producing "fake news" today and use our eight fact-checking practices to keep your content ranking well.
Nail Down the Main W's of Factual Content
There's a reason journalists rely on getting down the five essential "W facts"; who, what, where, when, and why.
Answering these simple questions for complex news stories brings the facts to a piece that reassures an audience that the content is authentic and fact-checked. The confidence in these answers and the level of detail surrounding an article gain reader's trust and grow online or physical readership.
Your blog may not solve crimes, but it's answering the hard questions people are asking about your industry. Rather than speculating about an answer and providing vague responses with a desperate call to action, we say stick to the facts.
Who

can this product or service help?

What

are you selling?

Where

can people buy your product, or where do you provide services?

When

would someone need this product?

Why

is yours the best choice to solve a customer's problem?
Answering these questions increases your content's value and reliability for your audience.
Check Your Dates and Numbers
Dates and numbers are the data-driven details that add credibility to your content. If you reference price, percentages, or numbers of people using a product or service, you must always ensure the data you provide is accurate and up-to-date.
Percentages from 2012 have likely changed by 2022. So, before you add the first number you find in an article or paper, check the reference's dates and make sure they line up with other sources touting similar information.
Savvy audience members who want to double-check before purchasing a product will likely look into your facts. Thus, up-to-date information could drive sales and boost your credibility with loyal and newer audience members.
Check Your Spelling
Names, locations, and general, correct spelling are all items you want to get right in your content. Always triple-check the spelling of names and locations. 
After all, if you can't get those right, how can your audience believe the validity of anything else your content promotes?
Link to Quoted Sources
Quoting people and credible sources can add meat to the bones of any piece of content. Relevant quotes back up your ideas and give your audience something more official when making a purchasing decision.
Falsifying a quote and hoping it gets by an audience can be easy but is a horribly corrupt practice. So, to avoid any doubts about quote relevance, link to quoted sources. Give your readers a chance to check your work, trust the results, and take your honesty to heart.
Link to Original Reports
Linking is essential for keeping your content factual and relevant. You must always link to original reports and sources. You may have found some relevant information on a site you know and trust.
Yet, linking to a third-party website may confuse readers.
Go the extra mile, dig into where your source received their information, and link to original reports. This boosts your credibility, and eliminating a third-party site makes you one of the lead authorities on the specific topic.
Run Your Content Through a Plagiarism Check
Plagiarism, intentional or unintentional, will tank your rankings and could lead to Google removing your sites from listings altogether.
Don't take the risk. Run your content through one or multiple plagiarism detection programs before you publish. 
Programs like Grammarly Premium and Turnitin can alert you of plagiarism detection and help you create original content that helps rather than harms your site's rankings.
Always Dig Deeper When Information Impacts a Reader
If you're a business owner in the medical and legal fields, anything you publish and encourage audiences to act on could legitimately change their lives. So, even if you are an expert in your area, any time you promote a legal service or boost the popularity of a particular medical exam, make sure any information you provide is legal and factual.
Review your current industry standards, changes in the law, or changes in medical practices. Keeping your content ideas and professional advice up-to-date can help audiences make the right decisions and keep your brand out of hot water if an issue goes south.
Dig Up the Facts for Your Content With Dallas SEO Dogs
As a business owner, you want every piece of content you produce to be genuine, useful, and convincing. It can be difficult to keep your finger on the pulse of your audience's needs, but a reliable search engine optimization (SEO) team can help you build a credible content portfolio.
At Dallas SEO Dogs, content is our specialty. Our team of writers takes pride in creating original, persuasive content that speaks the truth to audiences of all industries.
Our team can also help you achieve a winning SEO strategy, help with your site's optimization, and grow your audience.
Check out our Schedule your free consultation today!