How Do I Create a Professional Landing Page?
Posted - July 14, 2021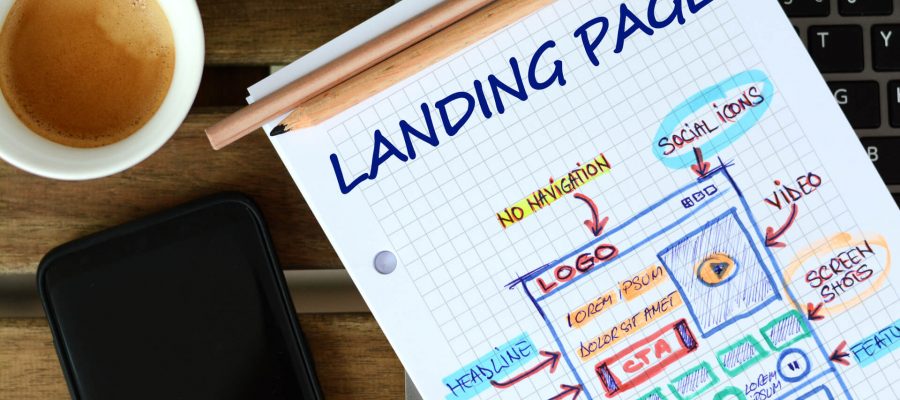 Everyone knows that content is one of the biggest conversion drivers when selling a product or service. From homepages to blogs, and pay-per-click (PPC) landing pages, there are many ways to get your point across to an audience with excellent content.
When it comes to compelling content, there is more than one way to create a piece that sells. While we've covered the unique qualities of successful blogs and web pages, PPC landing pages are a marketing tool that all creatives should master.
What is a Landing Page?
Landing pages are different from any service page or blog that you'd create on your website. In fact, PPC landing pages are pieces of content that are independent of your website. 
When a customer sees an ad for your brand's latest campaign and clicks on it, the link directs them to your landing page. Once there, they quickly learn more about your advertised product and why they should convert.
Why Are Landing Pages Important?
Landing pages aren't just an excellent way to make a PPC campaign a success. They are also massive traffic drivers and can positively impact your search engine optimization (SEO) and page rank. 
Landing pages are one of the quickest ways to generate leads, build loyalty and expand your customer base. Not many pieces of content can accomplish all of these at once, but a well-written and thoughtful landing page can be the key to unlocking your brand's success on several marketing fronts. 
5 Ways to Create a Great Landing Page
If the content is on the money, your campaign will gain traction. Therefore, the quality of your landing pages is extremely important.  
Follow our quick pointers on how to create a landing page that sells!
1. Make Your Landing Page Unique for Their Campaign
Although reusing evergreen content can be beneficial with blogging, landing pages are a completely different beast. Uniqueness is key to this type of content. 
Your landing page should be to the point and completely focused on the campaign you've created it for. If you approach your landing page like another service page and load it with generic content about your brand, it will create multiple conversion paths that tell you nothing about the success of your efforts.
By creating a page that is unique to your campaign, your audience will not only quickly find where they need to go to convert, but your PPC campaign managers can easily track the performance of the page and make adjustments where necessary. 
2. Focus on the Keywords You've Bid On
Your landing pages should always coincide with the keywords in their related advertising campaign. Nothing is a bigger turn off for a potential customer than clicking on an advertisement that doesn't take them to the information they are looking for. 
For example, if your keyword focus was "best hotel deals in Dallas," make sure that your landing page promotes the best hotel deals in Dallas, not content like "Why you should visit Dallas this summer."
Misleading landing pages don't create conversions. So, make sure to stay focused on the end goal and make your landing page worth the customer's time.
3. Only Include Important Information
Unlike service pages that should strive to answer every relevant search query on a topic, your landing page needs to be concise and direct.
Keep your content centered on key selling points of your product or service:
What problem does your product solve?

Who is this product for?

Why should someone invest in your product now?

What makes this service unique from other consumer options?
Your landing page should attract countless consumers. So, trim the fat in your content and leave out any distractions. Give your audience quick, powerful reasons why they need your brand in their lives and funnel them directly to your page's contact form.
4. Make Your Headline a Massive Converting Statement
You want your headline to directly connect with your call-to-action (CTA) and the ad the page promotes.
If your ad is about "Lifetime Guaranteed Dental Implants," your landing page's headline and CTA should directly address "Lifetime Guaranteed Dental Implants." 
If you can attract clients through your paid ad and then hammer home the point of your landing page with a compelling headline that tells the customer what you're selling, the user experience of your landing page becomes seamless and encourages faster engagement with every visit.
5. Create Trust with Your Landing Pages
A page that builds fast trust between a brand and potential customer is one that sells.
No matter your audience, everyone wants to ensure that their investment in your product is wise. So, include trust signals that give potential customers a glimpse into your brand's past successes with clients "like them."
Try adding these qualities to your content to create trust that converts:
Direct contact information

Customer testimonials

Access to reviews

Brand performance numbers

Official accreditations
Start Your PPC Journey Off Right with Dallas SEO Dogs
At Dallas SEO Dogs, PPC advertising is one of our most popular services. Our PPC specialists have honed their craft and perfected the art of keyword research, competitive bidding, and most of all, relevant landing pages that create engagement.Trust us to help you make the most of your paid advertising budget. Contact us today to schedule your free consultation and learn more about how we've helped businesses in your industry succeed.