How Your Reaction to Reviews Can Positively Impact Your SEO
Posted - June 30, 2021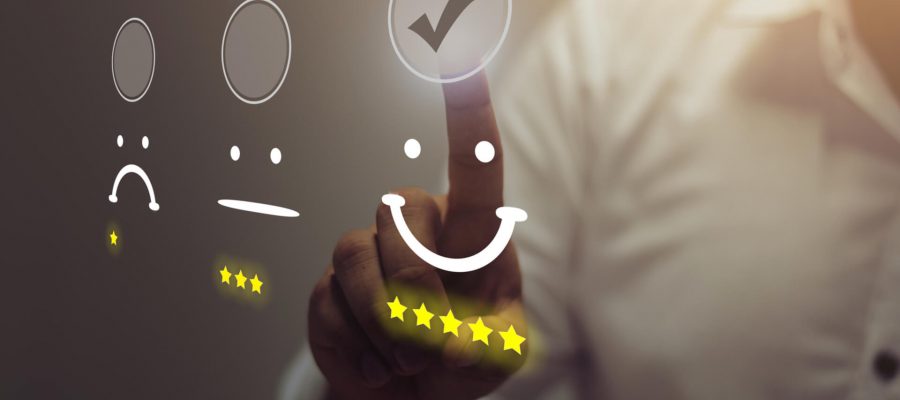 Although most of a search engine optimization (SEO) effort is something that's planned and strategized, not everything that impacts your rankings is in your control. 
Each of the customers your brand serves will walk away from their experience with an opinion about the quality of your work. Whether or not they make these opinions on the internet permanent depends on them.
As a brand, you can't control other people's opinions about your service. Yet, when a customer posts a positive or negative review on your Google My Business page or Yelp account, it can influence how prospective customers view your brand. 
It could also impact your SEO.
It's easy to dwell on how reviews can plummet your rankings and leave a business scrambling to get back to the top of relevant search results. Instead of taking that approach, let's take a deeper look at how positive and negative reviews can be helpful to your SEO.
Why Do Customer Reviews Matter?
Let's address the core question many new brands have about this topic: Why do reviews matter?
The answer is simple. Good or bad, reviews, and how a brand responds to them, can influence:
How audiences view your business 

How they choose to interact with you

Whether or not they visit your site 

Their decision to make a purchase

The direct profitability of your business

Local map packs and overall search rankings
It's clear that reviews impact a lot. This is why at Dallas SEO Dogs, we stress the importance of review management with each of our clients. Regardless of the positive or negative message in a review, we see any customer review as a chance to improve your brand's image.
Sometimes this means turning lemons into lemonade; so let's jump right into the muddy section of this post and discuss how negative reviews can be a good twist of fate for a brand.
Bad Reviews Aren't Fun, But Present Opportunity
No business wants to think that any of their customers may walk away feeling cheated out of a service. Unfortunately, not every service you perform will go to plan, and sometimes, a client will have something to say about it on the internet.
Once you realize you've got a negative review on your hands, keep in mind that you can't call Google up to delete it. Once it's up there, unless it's a blatant spam review or the reviewer decides to delete it, that review is all yours. 
All we can say is, don't panic, and try to look on the bright side of this chance to prove you're still a great company to work with.
Negative Reviews Show You're Human
Fortunately, as long as you have substantially more positive reviews than negative, most prospective customers will understand that bad days aren't the norm for you.
In fact, nothing but glowing reviews can appear suspect and could lead to some harm within your SEO. If customers think that your reviews are all bot generated or forced, it could look like you have something to hide and they may not click on your site at all.
However, a sprinkle of negative reviews with excellent feedback from you or your review management team, brings humanity to your brand and can lead to some of these positive SEO impacts:
Increased Click Through Rates

Reduced Bounce Rates

Longer Page Visits

Increased Traffic

Improved Search Rankings
Take the Feedback and Run with It
You aren't perfect, and if a negative review hits, it could be legitimate. Despite the sometimes painful tone of a bad review, dig for the feedback that lies within the message:
What are their grievances?

Do they offer any advice on how your business could improve?

What didn't you deliver on your end?
Not only can exploring this feedback help you make literal changes to your brand, but it could also be a hint that your SEO needs improvement. Perhaps your website's content was misleading, your keywords are out of date, or your website is simply in need of a user-experience overhaul.
If you discover that an optimization issue is at the root of your negative review, have no fear. Your SEO team can quickly get your website and strategy back on track and have your pages ranking for the correct queries, resulting in more positive reviews.
Use a Negative Review as a Chance to Respond
In the past, we've discussed the snafus that you should avoid when responding to a negative review. We won't harp on the subject here, but will gift you with some of our quick tips that can reduce the sting of an unwarranted poor review:
Always remain sympathetic to the customer's plight

Apologize sincerely

Accept responsibility where it's warranted

Keep the review short and sweet with an open window for further, private discussions
Your Response Matters on Positive Reviews, Too!
Responding to reviews improves your visibility on Google and also improves your trustworthiness with an audience. Remember, judgment doesn't stop at how you take negative reviews in stride; your positive review responses also matter!
Rather than accept the positive review and move on, take some time to bring humanity to your brand:
Sincerely thank your customer for their review 

Don't pat yourself on the back. Emphasize how wonderful your experience was working with them

Be brief and to the point

Leave the door open for future services for the customer
Google encourages and rewards brand interaction with customers. So, we say, take advantage of this opportunity whenever it arises.
Manage Your Brand's Reputation Effectively with Dallas SEO Dogs
If reputation management is something you can't seem to get under control, it's time to put your review responses in the hands of the professionals. At Dallas SEO Dogs, our review management team specializes in keeping our client's responses to all reviews up-to-date and regularly informs brand owners of new and updated reviews. 
We have successfully put reviews to work for clients throughout every industry, and are eager to help you turn audience feedback into SEO progress. Contact us today to schedule your free consultation with a member of our team!