Signs You Need Professional Review Management Services
Posted - March 16, 2022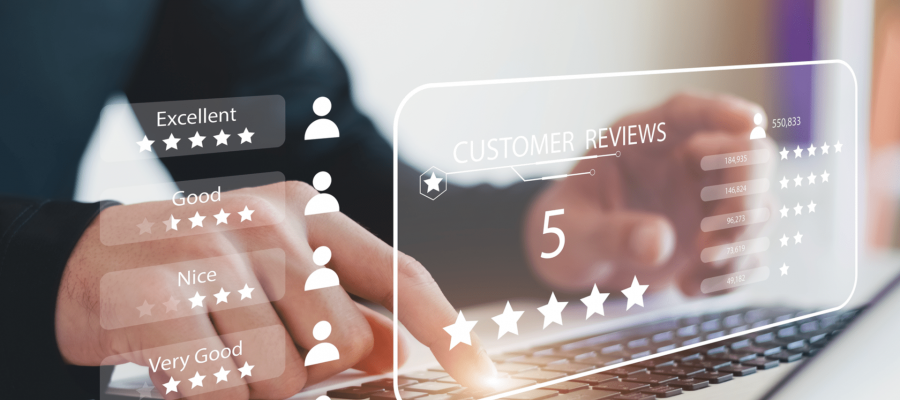 A brand's popularity within an industry is only as good as its online reputation. While some people may think that a great reputation just comes from word of mouth and great customer service, best search engine optimization (SEO) practices say otherwise.
From responding to negative reviews and even staying on top of review requests from clients, there are several technical ways to improve one's online reputation and boost overall conversions.
Let's examine what review management is, why it matters, and whether or not your brand needs professional review management services.
What is Review Management?
Also known as reputation management, review management services help to actively create a positive image of your organization's brand. Some people use these terms interchangeably, but "review management" is a part of the bigger umbrella that is "reputation management." Reputation management encompasses all avenues where your brand can be found.
This includes managing citations, reviews, social media profiles, pages found on the first SERP, etc. Through experience and specialty software, a review management representative can help boost the credibility of your business.
Unfortunately, when a negative review pops up online, it's usually something that you can't just delete. Skilled review management can help you minimize the damage negative reviews can do to your credibility. It can even help generate positive buzz for your brand from your audience.
Why Does Your Reputation Online Matter?
Let's face facts. When people research a new brand to do business with, the first thing they do is check out reviews. Even if your brand has practiced effective SEO and made it to the first page of the search engine results pages (SERPs), if you have bad reviews, the chances are you won't catch a sale. Reviews help people decide to click on your listing in search results and affect the odds that they'll buy from you once they do.
The bottom line is, a great reputation creates instant trust and credibility with your target audience. Failure to do so will quickly result in lost business and eventually, lost authority amongst search engines.
Signs Your Brand Needs Review Management
As you can see, review management is something that every business could benefit from in the long term. However, if you're still on the fence about adding review management to your SEO repertoire, here are some of the biggest signs that this service could be beneficial.
Sales Are Down, Complaints Are Up
If you notice that your sales have drastically decreased, it's time to look into why your audience is veering away. When you search for your brand and the first thing you find are swaths of negative reviews that you haven't responded to, this could be what's hurting your bottom line.
Review management services approach your negative reviews with professionalism and respond to any bad press with helpful words that strive to mend any issues between your brand and an upset customer. When this happens, the negative review remains, but now new audiences will see your professional response and be less likely to deem you an unreliable source for services.
Review management also comes in handy when it comes to vetting and revealing negative reviews from competitors posing as disgruntled customers.
You Aren't Showing Up in Search Engines
Even if you have a fair reputation amongst your loyal customers, if you aren't showing up in search engines, you may as well be a brand with a bad reputation.
Combining unique content creation and reputation management services allows you to not only get your content indexed and properly ranked but also adds the most relevant content to your Google Business Profile (GBP), making your listing an excellent tool for improving your online reputation.
You Don't Have Reviews Coming In
If you have an abundance of customers, positive reviews are the secret to bringing in even more new business. So, encouraging your loyal customers to send in organic reviews is your best shot at building up your online reputation.
While you can't just ask customers to post positive reviews, a review management team can create a customized drip campaign that messages your current and former customers and encourages them to leave a review about their experience.
With any luck, they'll all be glowing reviews, but in the case that they aren't, don't worry; you have your review management team on your side to respond. Receiving a couple of negative reviews isn't anything to panic about. Use this feedback as an opportunity to showcase your brand's voice and customer service skills.
Our team will work with you to develop a response that will address the negative reviewer in a professional manner. These crafted responses will help your brand's reputation in the long run.
You Don't Have Time to Respond to Reviews
Being a business owner is, well, busy! Yet, regardless of how much business you're getting at face value, it's still necessary to respond to all of your reviews (not just the negative ones).
Review management services take this responsibility off of your shoulders and ensure an appropriate response for every review customers write. After all, when potential customers see that you're involved with your audience and take the time to hear every opinion out about your brand, they're more likely to view you as credible and worthy of their business.
Your Listings Aren't Accurate
If your business's information is inconsistently scattered across different internet listings, you definitely need review management to help bring all of your information up-to-date. Incorrect business information not only leads to lost business but also leads to lost SEO rankings.
Trust a review management team to help get your brand's name, address, hours of operation, phone numbers, and more up-to-date and consistent wherever your business information resides on the web.
You've Lost Web Traffic
If you've noticed your web traffic has gone down and the lost interest is starting to hurt your SERP rankings, you could have a review management issue on your hands. Regardless of the reason behind your lost traffic, your SEO team and review management experts can quickly review your analytics, find the source of the problem, and respond accordingly.
From the need to improve your GBP, respond to reviews, or even general backend optimization, your digital marketing team can quickly get your SEO goals back on track.
Secure Your Reputation Today, With Dallas SEO Dogs
If your reputation could use a boost, let the experts at Dallas SEO Dogs help. Our reputation management team is ready to professionally respond to negative reviews, update essential listings, start a review drip campaign for your brand, and more!
Trust us to help you build a better name for your business within a busy industry. Contact us today to schedule your free consultation with a member of our team.