Why Do You Need An Agency Over In-House SEO in 2023?
Posted - December 8, 2022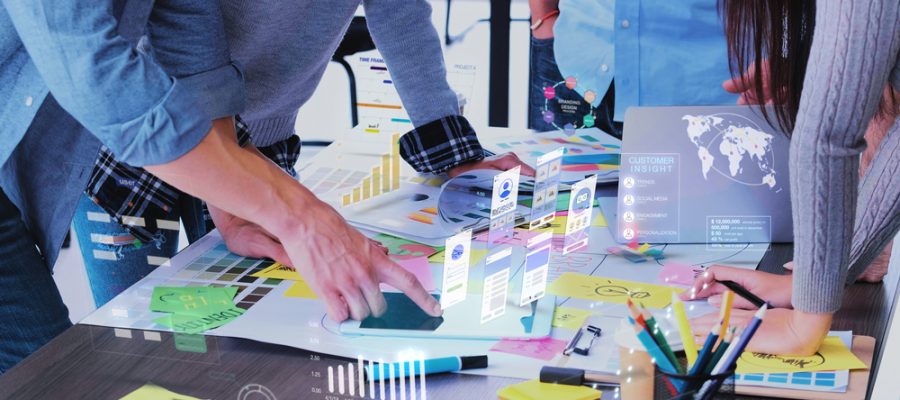 2023 is just around the corner, and many businesses are brainstorming ways to make the most of their site's web presence on popular search engines.
While user-friendly web design and social media are surefire ways to boost a search engine results page (SERP) in the long term, creating a search engine optimization (SEO) strategy is the real ticket to online authority that converts.
The next step is finding a way to accomplish excellent SEO practices in 2023. Typically there are two options, hiring a digital marketing agency or building an in-house SEO team from the ground up.
Let's look at each option and why we believe working with an agency is ideal for more qualified, reliable results.
What is Agency SEO?
When you hire an agency to work on your SEO, you create a partnership with a third-party team specializing in SEO strategy, reviewing Google policies, pivoting with various updates, and more.
An agency will have its own off-site office and typically won't perform operations within your workspace. Agencies often have several clients and spread out their client's time based on the size of a monthly project.
When you hire an agency, you pay a monthly or annual rate that covers the services your project requires. 
From social media management to content marketing and technical support, agency SEO brings your team the possibility of the whole package in one convenient place.
What is In-House SEO?
In-house SEO occurs when a company builds a team of SEO professionals to help its company grow from the inside. These SEO specialists can cover the gamut of specific SEO needs. 
The most significant difference between in-house and agency SEO is that in-house employees are your full-time employees. Agencies are third-party groups with their payroll and hierarchy separate from your physical office.
Why Should You Work With an Agency in 2023?
While taking the time and resources to hire an in-house team can be beneficial, it often comes with caveats that you can avoid through an experienced SEO agency like Dallas SEO Dogs.
Agencies Have Experience With Multiple industries and Clientele
When you work with an established SEO agency, you can be confident in knowing that they've likely worked with a company in your sector before. 
Most agencies will gladly present a list of former clients in your industry and review how they helped those clients achieve their SEO goals. Starting with experience with SEO in your industry is critical. 
It can be a much smoother process knowing you've hired an agency with experience in your field over hoping a full-time in-house SEO hasn't fibbed about their successes to get their foot in the door.
We Have Project Management Down
Some SEOs you hire may have management experience but can also come with ideas they hadn't tested for success in a former position. 
Taking this type of management risk can put your project in peril if experimental project management doesn't work out.
An SEO agency should have established management practices that ensure your quality never falters throughout your project.
For example, at Dallas SEO Dogs, we utilize various software that keeps our clients in constant communication with the team, provides monthly analytic updates, and lets them track what we've accomplished throughout the month. Our project management technique is all about transparency and ensures you're never in the dark about the status of your project.
Quickly Pivot After an Algorithm Shift
The dreaded algorithm shift. Unfortunately, even the most experienced SEO agencies can't predict when Google will make significant algorithmic changes. However, when Google announces them, we are the first to know and will diligently monitor your site's rank success. Catching an issue right away can save your site in a couple of months versus experiencing a long-term descent in search that impacts your bottom line.
The cycle is purely reactionary, and you need a team with experience that can roll with the punches and ensure your site recovers quickly if rankings suddenly drop.
Agencies experience necessary algorithmic pivoting regularly. As your dedicated SEO managers, we can devote all our time and resources to helping you recover from an unexpected update.
Whether we're making your content more authoritative or ensuring that your site isn't violating a new standard Google's put in place, you can rest easier knowing that your site should be back on top within a couple of months.
Agencies are a Time-Saver
We tell every potential client that SEO is a long-haul process. Reaching number one for a specific keyword will never happen overnight and is never a guarantee.
Excellent, attainable SEO results require time and experience that only some in-house teams have on their hands.
Quality SEO is a full-time job, from knowing what keywords and long-tail searches audiences are looking for to creating relevant content that pleases Google bots and human audiences alike. 
If your in-house team is working on your SEO as an add-on to their other responsibilities, it will be hard to gain traction in a realistic amount of time.
Having an agency on your side saves your brand time and money during the SEO strategic process. We handle all aspects of your SEO, take the stress of time constraints off your shoulders, and let you accomplish your business's industry needs.
Experience Results in 2023 With Dallas SEO Dogs on Your Side
If you're ready to make 2023 the year that your site makes its mark on search engines, Dallas SEO Dogs is ready to be your partner on your journey.
Our team of experienced digital marketers can help you create captivating content, improve your site's technical performance, create effective ad campaigns, and increase your site's authority in relevant searches.
As a business owner, we know you have a lot to concentrate on in the new year, so we're here to let our experience take the search engine stress away. 
Ready to become a leader in the SERPs? Schedule your free consultation today!