How to Create the Perfect Value Proposition for Your Brand
Posted - December 21, 2022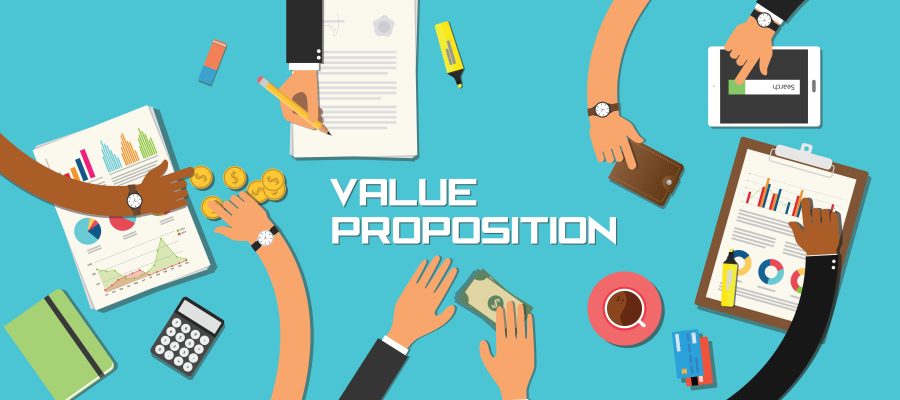 Value is a popular word used throughout the search engine optimization (SEO) community. You want your brand to be "the" brand customers turn to when they have a need you can solve.
When we work with our clients, we approach each project with the ultimate goal of creating valuable posts, content, and website experience that encourages customers to invest in a brand services or products.
The best way to promote value is to create a value proposition on your site that sells who you are in a simple statement. While some may think it's as easy as saying "We can help with X problem with our Y service," the truth is, creating a great value proposition requires research, industry knowledge, and the ability to grow with the times.
At Dallas SEO Dogs, we create value with every project that we take on. Let's take a closer look at what a value proposition is, why they matter, and how your brand can approach creating a value proposition that attracts audiences and higher online search rankings.
What is a Value Proposition? 
By definition, a value proposition is any service or feature in your brand that makes your brand or product more attractive to your target audience. In SEO and marketing, a value proposition is typically a statement found within the introductory paragraph of your site that gives audiences a reason to stick around and shop.
When people see that a brand has put consumer needs first and displays in full view the value that they bring to the table, the chances are, they'll feel seen and want to give you their business.
Essentially, your value proposition is what separates you from the competition and gives a unique twist on your brand. Suppose you and your creative team can create a value proposition that attracts audiences. In that case, your long-term customers will increase, your content will become authoritative in relevant search results, and eventually, your site's rankings could increase. 
How to Create a Value Proposition That Converts
Even though a value proposition is something as simple as a couple of sentences, crafting the right statement requires finesse and targeted information. 
Let's get into that now!
Speak to a Specific Audience
Your product or service has a target audience that you know will benefit from what your brand has to offer. Make sure that your content team has done its research and targeted your value proposition to your exact target audience.
While it's essential to focus on standard demographic stats like age and location, getting into more detailed audience features can help you target your value proposition to your exact buyers.
Audience features like current lingo, search patterns, common pain points surrounding your industry, and even the types of jobs they have can help you reach your audience.
So, take polls, answer reviews, monitor your social media, and ensure you take the proper steps toward getting to know your audience at a deeper level.
Stress How You Address Audience Pain Points
The key to an excellent value proposition is in the actual value it brings to the customer. As we mentioned earlier, during your research, you want to understand what your audience actually needs from your product or service. 
What problems can you solve?

How do you do it differently from similar products consumers use?

What aspect of your brand is most in demand at the moment?
Remember, your value proposition is a very brief statement, so finding the most direct way to address your audience's pain points is essential.
Take our value proposition as an example:
"Digital Marketing is all about connecting the right message with the right audience at the right time. The end goal? Driving profitable customer action. That's what Dallas SEO Dogs does best.We deliver both short-and-long-term results with a continuously evolving process and tailored strategies. Dallas SEO Dogs helps businesses of all sizes grow and prosper."
In our value proposition, we address the pain point of needing customer action for success. Our approach is unique through our unique strategic approach we bring to each business we serve.
Clarity is Key
Your potential customers know exactly what they need. Ensure your proposition is a concise elevator pitch of what your company does. Avoid jargon and flair. Make your value proposition's content to the point and clear to the reader.
Be Prepared to Evolve With Your Customers
Over time, your audience or their current wants and pain points will change. This could mean your value proposition isn't as enticing as it could be. 
Rather than letting your audience move on and your ranking slowly declines, work with your digital marketing team to shift with the times and evolve your message to match current trends and industry needs.
Take a Peek at the Competition
We've always stressed the importance of competitive research. Keep your value proposition original, but remember, it's always a good idea to see what others are promising and how their services differ from yours.
Finding a unique angle that helps you stand out could make your proposition the one that catapults you to the top of your industry.
Ready to Give Your Brand a Reputation Boost? Dallas SEO Dogs can Help!
If your brand needs help defining its target audience, refining its content approach, and creating a value proposition that sells, the team at Dallas SEO Dogs can help! Our digital marketing experience spans all industries, and we've been able to help brands like yours reach their target audience and improve their bottom line through positive search engine growth.
Contact us today to learn more about our services and schedule your free consultation with a team member.