SEO Simplified For The Newcomer
Posted - March 13, 2019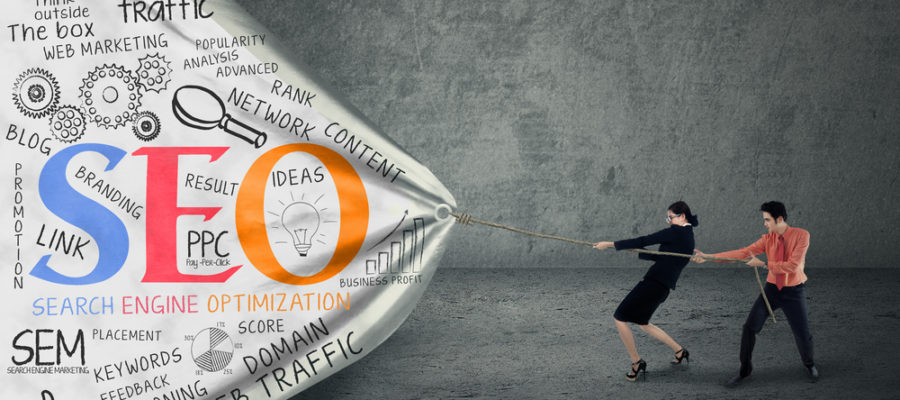 Digital marketing and SEO are the common paths to success for both local and national businesses. However, many business owners or entrepreneurs just opening shop may not understand how the process works at a basic level. Not knowing specific terms and keywords can be intimidating, and this fear could be holding your brand back from success. Here are some of the basics that you need to know if you want to get your business found by the majority of modern audiences.
What Is SEO?
Search Engine Optimization (SEO) consists of improvements made to a brand that increase the ranking of a site on search engines like Google and Bing. This is accomplished through a series of on-site and off-site strategies that optimize your pages in order to get them noticed by both Google and your target audience.
Why Do You Need It?
Every business owner wants their brand to be at the top of their industry. With strategies like local SEO, reaching your goal of being number one is possible! If you do your digital marketing right, SEO can bring in a constant flow of traffic to your site. This traffic essentially increases the number of people who may purchase your product or services (we call this a conversion). The math is simple. The more conversions you make, the more popularity your brand gains; meaning the SEO tactics you've implemented have genuinely paid off.
What Impacts SEO?
There are a plethora of factors that have an impact on your SEO, but the biggest one is relevance. By continuously staying a step ahead of your industry's trends and audience desires, you can start to focus on some of the technical aspects of SEO that you can use to power your marketing engine. Here are five of the most significant terms for digital marketing:
Keyword Research

Quality Content

Earning Valuable Backlinks

Social Media

Management

Paid Ads
Keyword Research
A great keyword is a literal key to unlocking the door to successful optimization practices. These are words that search engines prioritize because they are what target audiences are searching for. Finding the right keywords to use on your site may sound intuitive, but it actually requires something called "keyword research" in order to be done right. Using tools like Google Keyword Planner, Google Trends, third-party software, or performing some competitor research, can give you an idea of the keywords your content needs to be focused on.
Content Creation
Your website is only as attractive to search engines as its content. SEO helps you use your content as a tool that keeps your site relevant to the search terms that you need to target. From blog posts to site maps and images, the content on your site needs to be accessible, relevant, and above all useful for your audience. Fresh, evergreen content creation and optimization will help make your website a "Google darling" because you are giving search engines exactly what they want: content that leads to sites that correlate with what people are looking for.
Linking
Off-page optimization consists of tactics that improve your rankings away from your actual website. One of the most high-return SEO techniques is inbound links to your website. The success of inbound links relies on these two guidelines. 
The links must come from relevant and popular citations/directories

Your links must lead to great content that people will want to read, share, and engage with
Great content earns backlinks naturally, but you can use a wide variety of outreach strategies to make others aware of your content and to increase the odds that they read and link to that content.
Social Marketing Works!
Social media is an excellent tool for creating relevance and audience traffic to your site. Search engines are now starting to look at the actual social influence of brands when considering the relevance and credibility of a business. So, by focusing on your brand's social engagement (likes, shares, reviews) and active social presence, you can also make an impact to support your ongoing SEO efforts.
Ready to Jump Into SEO? Dallas SEO Dogs Can Help!
Excellent optimization practices require experience. At Dallas SEO Dogs, we understand that you may not have the time to delve into the depths of SEO practices while running your local business. Let us do the digital marketing for you, and in the process boost your rankings and conversions. Please fill out our contact form and let us know a little about yourself. We can't wait to hear from you and learn more about your business!